60cm 600 Series semi-integrated dishwasher with 13 place settings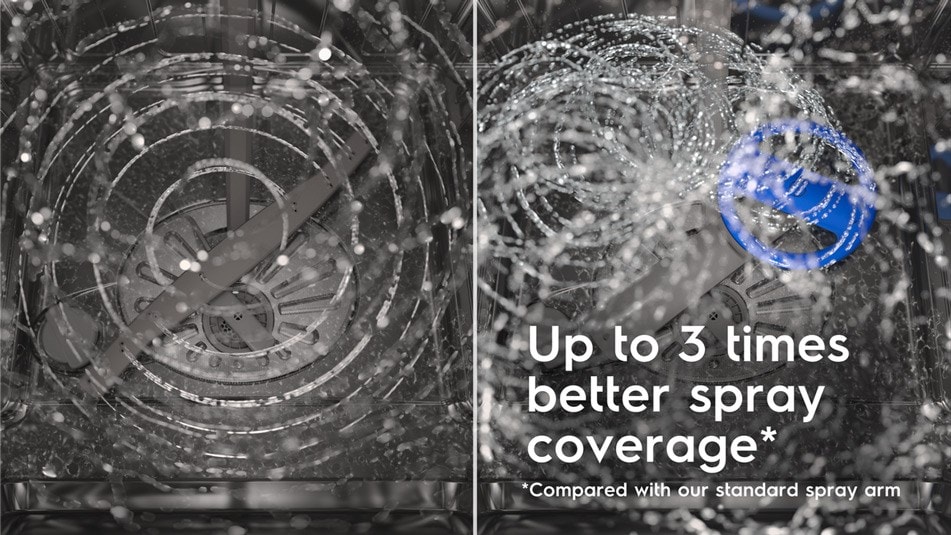 Confidence in corner-to-corner cleaning
The 300 SatelliteClean® Dishwasher spray arm leaves every load spotless. Our technology has up to three-times better spray coverage compared to the standard, so even closely-stacked items are thoroughly washed. With no smears and no stains, just spotless dishes.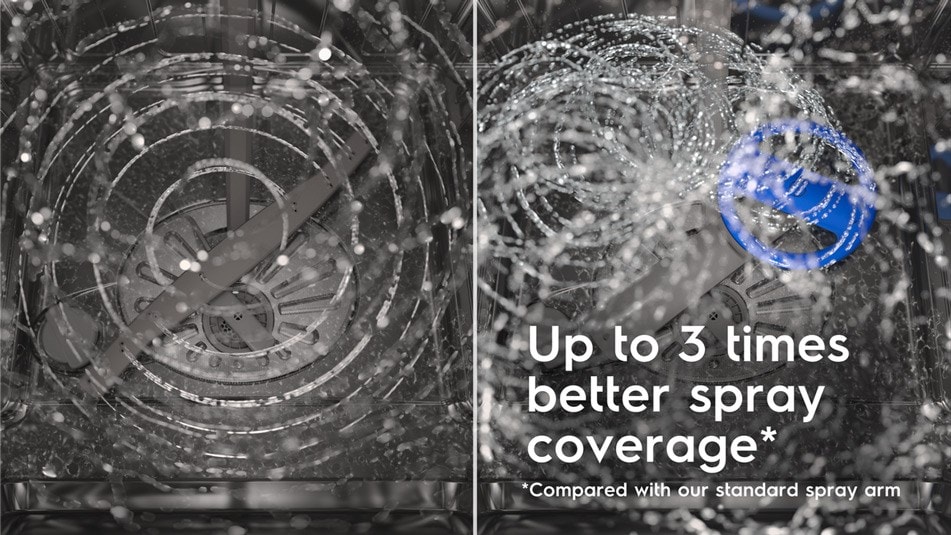 SatelliteClean®. Complete cleaning. Without using extra water
Dishes come out spotless with SatelliteClean®—it performs up to 3x better than the standard dishwasher. Thanks to the double-rotating arm that continuously changes the angle of the spray, even bulky items are deeply cleaned.
Features
Glass protection program

MyFavourite – activate your favourite program and settings at one touch

Water sensor detects the level of dirt and adjusts water consumption

Indications for salt and rinse aid

Installation: Built-in


Delay start option from 1 to 24 hours

Noise level: Only 44 (dB(A) re 1 pW) (2010/30/EC)


Energy efficiency (2010/30/EC): A+++


Appliance H×W×D (mm): 818×596×575


Dishwasher programmes: AutoFlex 45°-70° | Eco 50° | GlassCare 45° | Intensive 70° | QuickPlus 60 | Rinse & Hold


Lower basket with 4 foldable plate racks|Plastic coloured handle

Noise level: Only 44 dB


Indications for Delay start 1h-24h|Drying phase|My Favorite|Program selected|Rinse aid|Salt|TimeManager|Washing phase|XtraDry

Electrolux Built-in Full-with (60cm) Dishwasher ESI5559LOX
Tech specification
Main colour: Stainless steel

Installation type: Built-in

Dimensions W×D×H in mm: W596 × D575 × H818

Drying Performance: A

Cleaning Performance: A

Energy class: A

Declared program Eco: 50

Net product weight (kg): 37.9

Total wattage (W): 1550-2200

Required Fuse: 10

Number of IEC Place Settings: 13

Panel colour: Stainless steel

Voltage (V): 200-240

Country of origin: PL

BI dimensions H×W×D in mm: W600 × D550 × H818

Product Class: Dishwasher