Seals in Farm Freshness Longer
LinearCooling™ reduces temperature fluctuations, locking in the flavor of fresh for up to 7 days.
*Based on TÜV Rheinland test results using LG's internal test method to measure the time it took to achieve a 5% weight loss rate for pak choi on the shelf in the fresh produce compartment of the LGE LinearCooling Model GSXV91NSAE. The result may vary during actual use.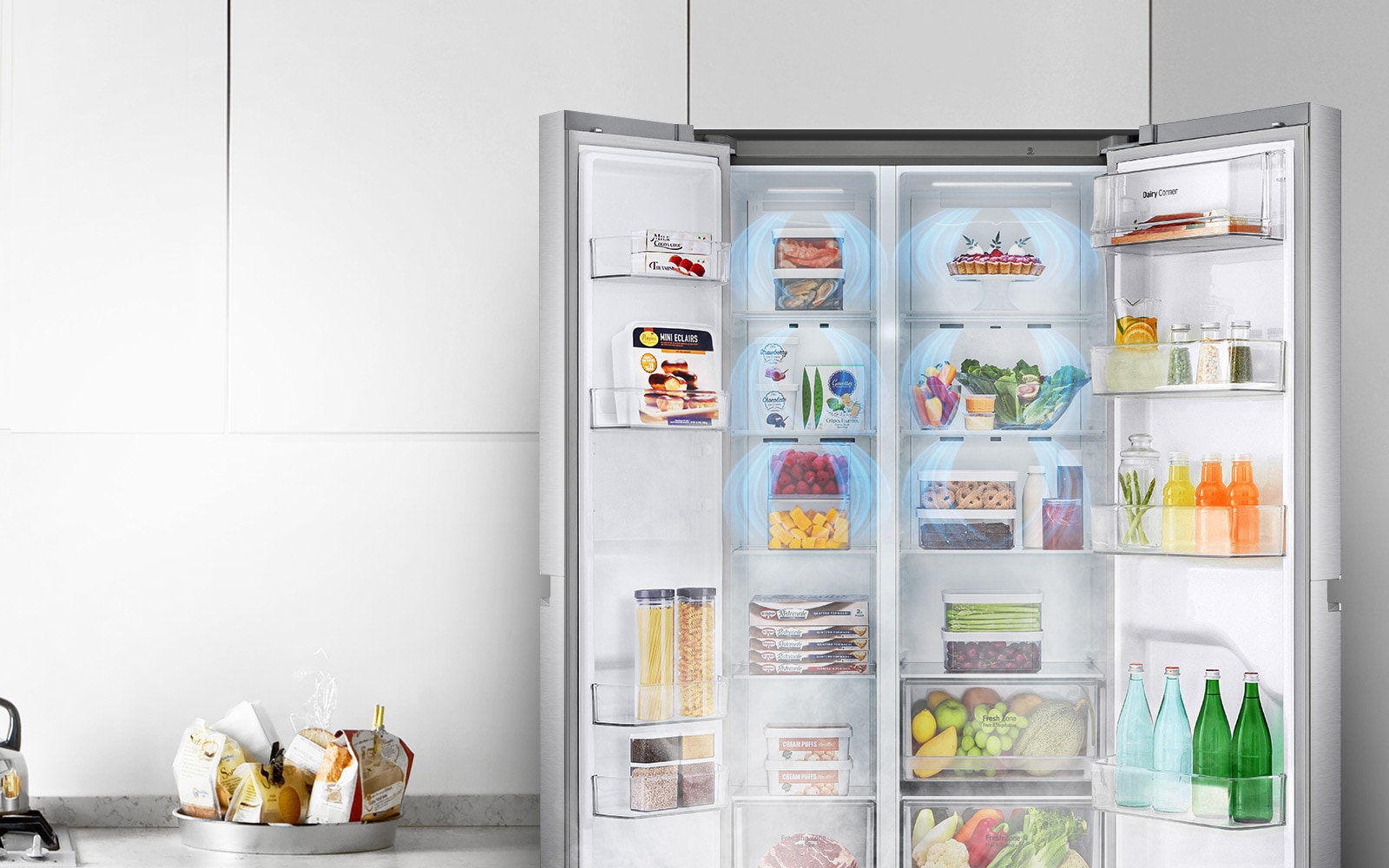 Optimal Temperatures Everywhere
Air flows in every direction to keep your food fresh,
no matter where you place it.
Enhance Your Décor with an UltraSleek Door
The UltraSleek Door instantly enhances the décor of any kitchen.
LG ThinQ™
Smart Control, Smart Life
Remote Control

Smart Alert
Connect and Control from Anywhere
The LG ThinQ™ app allows you to easily connect with your refrigerator in a way you never could before. Turn on 'Express Freeze' with just the tap of a button.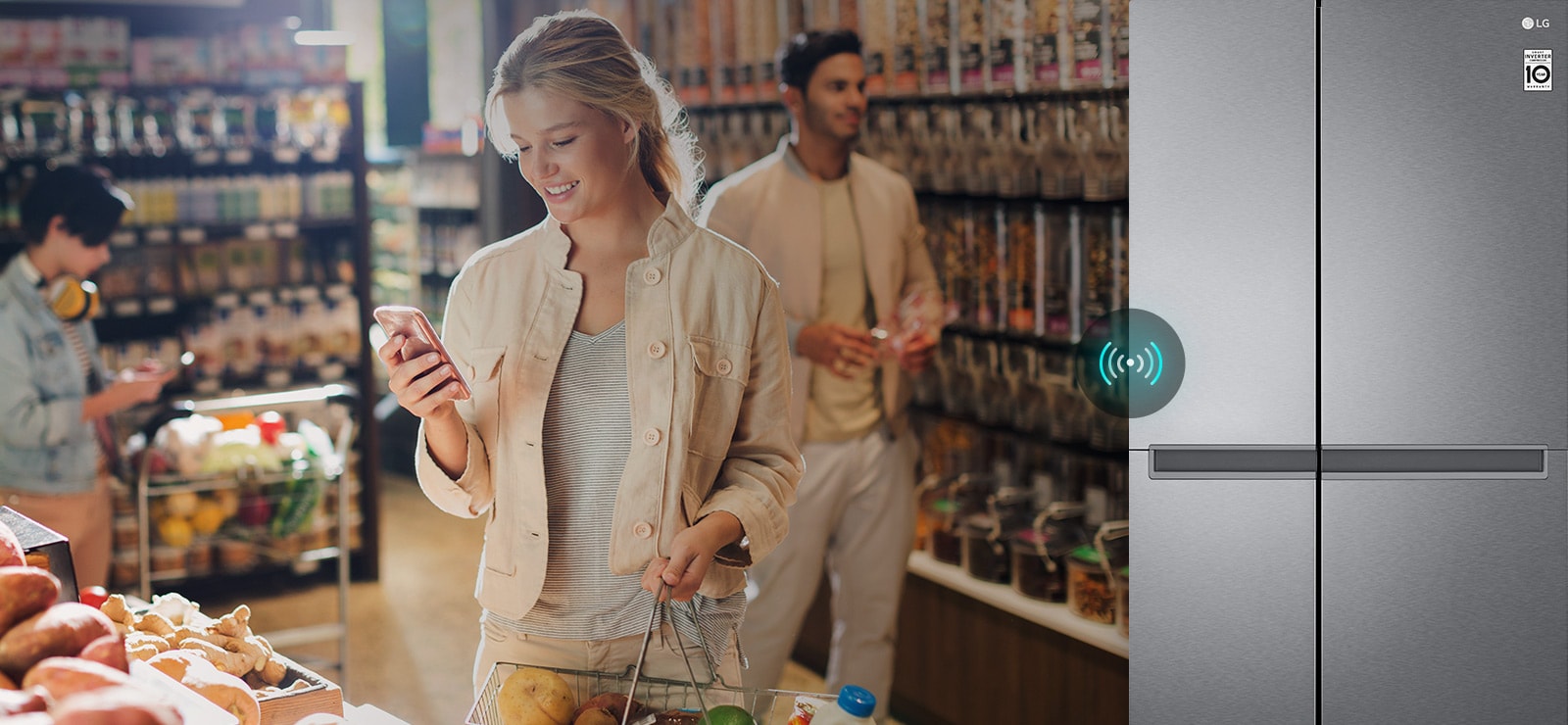 *Google and Google Home are trademarks of Google LLC.
*Amazon, Alexa, Echo and all related logos and motion marks are trademarks of Amazon.com, Inc or its affiliates.
*LG SmartThinQ is now renamed as LG ThinQ.
*Smart features and voice assistant product may vary by country and model. Check with your local retailer or LG for service availability.
*Voice-enabled smart speaker device is not included.
Energy Efficient & Durable
LG Smart Inverter Compressor™ takes energy efficiency to the next level to help you save more and 10 years of peace of mind.
CAPACITY

649L

DIMENSION (W×H×D, cm)

913 × 1790 × 743

KEY FEATURE #1

Smart Inverter Compressor™

KEY FEATURE #2

Door-in-Door Refrigerators®
ISO Storage (Old Reg / New Reg) – Total

649

ISO Storage (Old Reg / New Reg) – Freezer

233

ISO Storage (Old Reg / New Reg) – Refrigerator

416
Height (Net) – to Top of Hinge (A)

1790

Height (Net) – to Top of Case (B)

1750

Depth (Net) – without door (C)

620

Depth (Net) – without handle (D)

743

Depth (Net) – including door & handle (E)

743

Width × Height × Depth – Product

913 × 1790 × 743

Width x Height x Depth – Packing

913 × 1891 × 770
Finish (Door)

PZ

Handle Type – Material

Plastic

Handle Type – Contour / Flat Door

Contour

Handle Type – Type (Name of handles and Easy open)

Pocket

Display

LED88

Temp. control – Express Freeze

Yes

Temp. control – Child Lock

Yes

Temp. control – Door alarm

Yes

Temp. function – Express Cool

Yes

Multi-Air Flow

Yes

Cooling System

No Frost

Smart DiagnosisTM

Yes

Sound Power(dB)

36(C)

Freezing Capacity (kg/24hr) – (New Reg / Old Reg)

12

Refrigerant

R600a-60g

Inverter Compressor

BMH130NCMV

Bio Shield (gasket)

Yes
Lamp

LED(1)

Shelf – Tempered Glass

Yes

Door basket – Transparent

Yes

Metallic Decoration – Shelf

White

Metallic Decoration – Drawer

White

Veg Box Cover T/V R/U – Tempered Glass

Yes

Veg Box Cover T/V R/L – Tempered Glass

Yes

Vegetable Box (Drawer) – One

Yes

Deodorizer

Yes
Lamp

LED(1)

Ice maker – Normal Ice Tray

Yes

Metallic Decoration – Shelf

White

Metallic Decoration – Drawer

White

Door basket – Transparent

Yes

Drawer Box Cover T/V F/U – Tempered Glass

Yes

Drawer Box Cover T/V F/L – Tempered Glass

Yes

Drawer – Transparent

Yes