Comfortably cool without feeling cold
Wind-Free™ Cooling
Wind-Free™ Cooling gently and quietly disperses air through 23,000 micro-holes that prevent the unpleasant feeling of cold wind on the skin. Its advanced airflow also cools a larger area more evenly, plus it uses 77% less energy than Fast Cooling.
Reduces energy use by 77%*
Wind-Free™ Cooling (Energy Saver)
Save money every day thanks to the high energy efficiency of Wind-Free™ Cooling. By operating in Wind-Free™ mode, the outdoor unit consumes energy to a minimum, using up to 77% less electricity compared to Fast Cooling mode . Thus, you can enjoy the freshness you want, without worrying about the electricity bill.
Enjoy a smarter lifestyle
AI Auto Cooling
AI Auto Cooling* automatically optimizes different cooling modes by analyzing room conditions and your usage patterns. Based on your preferred temperature, it automatically switches to the most appropriate mode to maintain optimal conditions.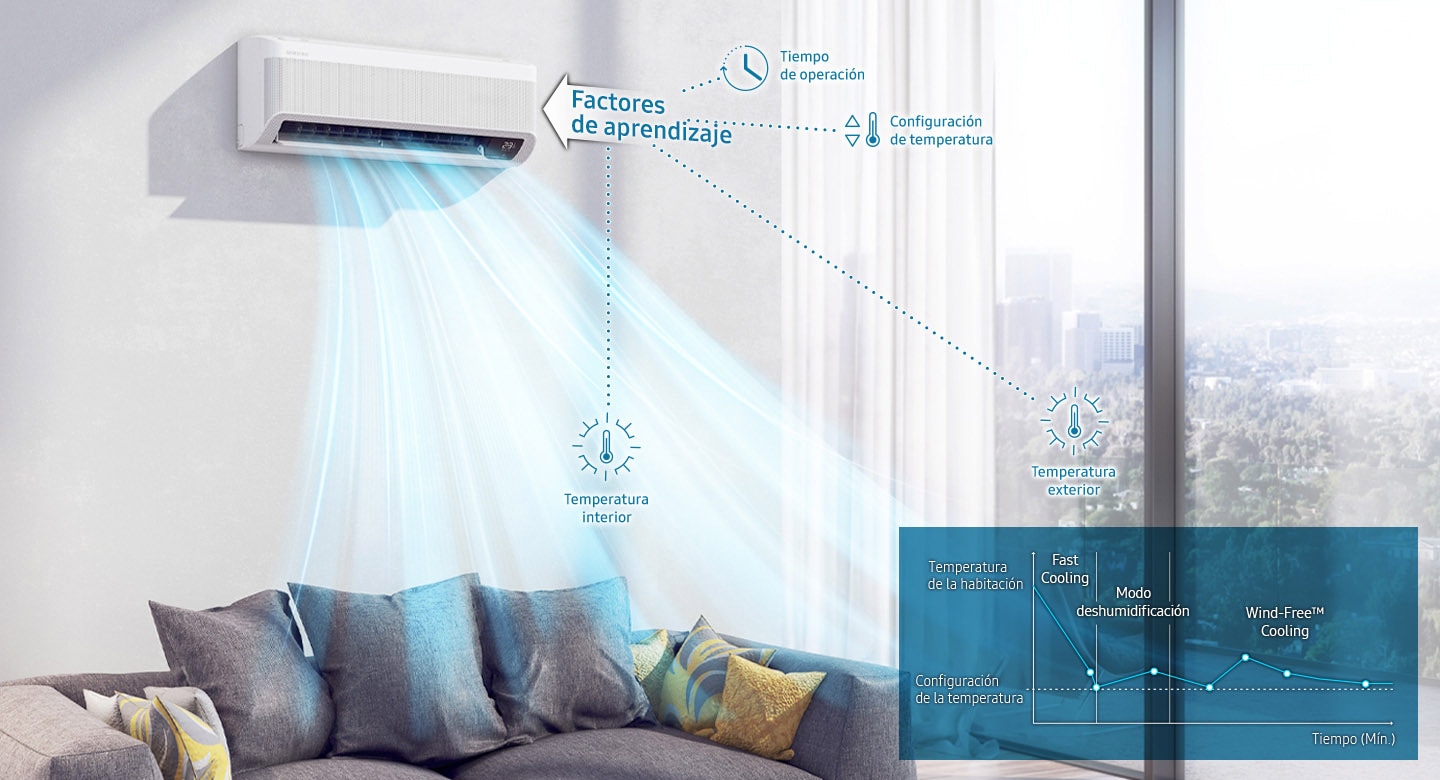 *Wi-Fi connection and Samsung account required.
**Stores user data, preferences and usage patterns to suggest the most useful options.
Reduces noise and energy use by 73%*
Digital Inverter Boost
Save money every day, thanks to the highly energy-efficient Digital Inverter Boost technology that maintains the desired temperature with less fluctuation. In addition, with neodymium magnets and a dual silencer, its performance is efficient, quiet and long-lasting, with a reduction of up to 73% in energy consumption.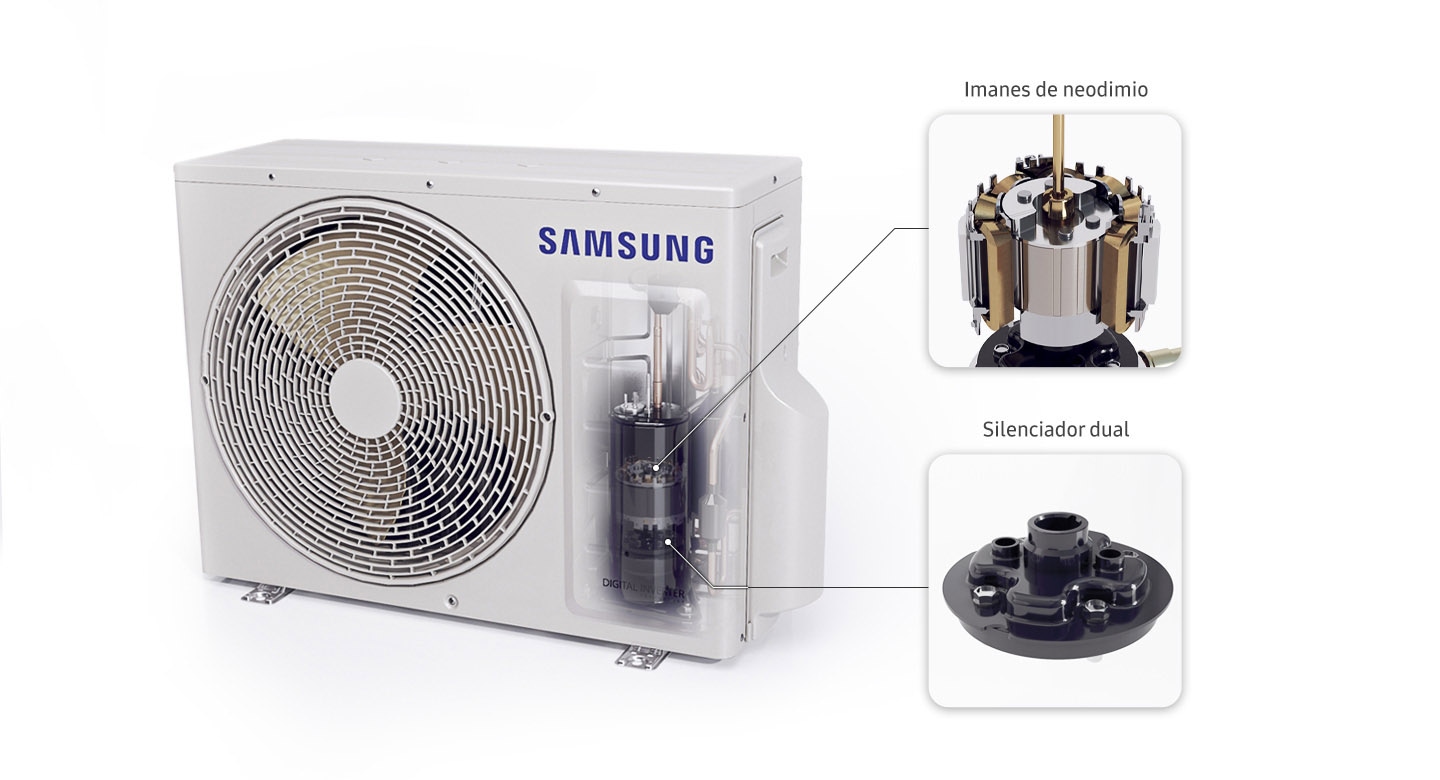 *Tested on the AR09TXCAAWKNEU model compared to the conventional Samsung AQ09TSLXEA model.
A better rest at night
Wind-Free™ Good Sleep
The Wind-Free™ Good Sleep mode creates the ideal sleeping climate by avoiding the unpleasant flow of cold air. Temperature control with Wind-Free™ Cooling helps you fall asleep quickly, for a comfortable, deep and refreshing rest.
Designed to cool larger spaces, further, faster
Fast Cooling
Cools entire rooms quickly, ensuring your comfort. Digital Inverter Boost technology cools the air 43% faster. Its advanced design also integrates a 15% larger fan, 18% wider intake and 31% larger breeze. Thus, the cold air is dispersed more and more, reaching up to 15 meters.
Remote control anytime, anywhere
SmartThings
Control the temperature of your home whenever you want, from wherever you are. With the SmartThings app*, you can control and monitor your air conditioner remotely, with just a touch. Or simply tell the AI ​​system* what you want** and it will do it for you. It will even suggest the best settings for you.
*Available on Android and iOS devices. Wi-Fi connection and Samsung Account required.
**Voice control supported in English (US, UK, India), Chinese, Korean, French, German, Italian, and Spanish. Portuguese supported since end of 2019.
Triple care to offer cleaner air
Tri-Care Filter
Hygienic air and performance prevail with Tri-Care Filter. It has 3 layers that include a high-density filter to extract large particles of dust, fibers and animal hair. A zeolite coated filter also captures fine dust and removes viruses, bacteria and allergens.
automatic cleaning
Auto Clean (3 steps)
Your air conditioning stays hygienic automatically. Once it starts operating, the Auto Clean function dries the heat exchanger through a 3-step process. Eliminates moisture by expelling air for 10 to 30 minutes, preventing the accumulation of bacteria and odors.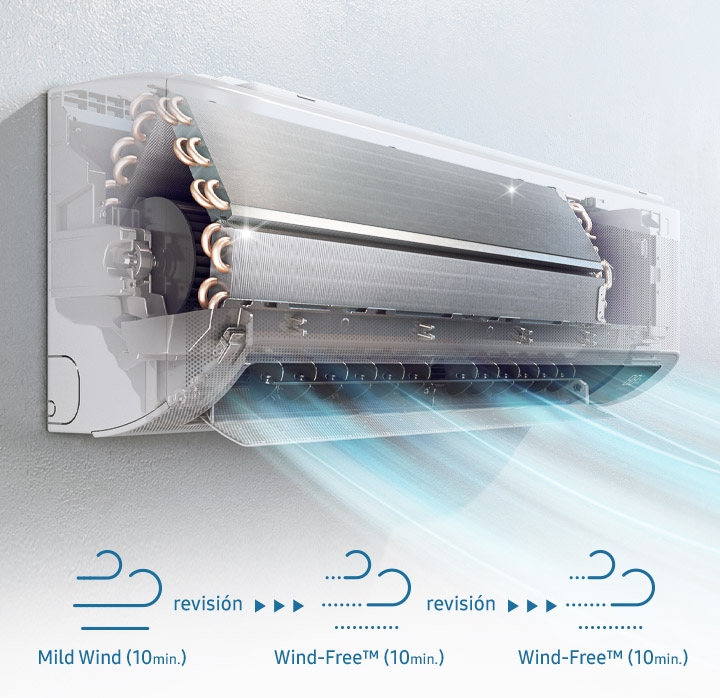 Enjoy a calmer and quieter home
Less noise
Refresh your spaces with less noise. The compressor creates a powerful airflow and thanks to the Twin Tube Muffler it runs very quietly. When operating at high speed, it reduces the noise of the refrigerant flow; and during low-speed operation, it minimizes ambient noise.
Easy-to-clean antibacterial filter
Easy Filter Plus
Easy Filter Plus Keeps your air conditioner running efficiently, with less effort. The filter is located on the outside of the top, making it easy to clean. A dense mesh keeps the heat exchanger clean, and an antibacterial coating helps protect against dangerous airborne contaminants*.
*Tested in Korea test lab. Data has been measured under specific test conditions and may vary based on environmental factors and individual use.
Prevents corrosion for long-lasting cooling
DuraFin™ Plus
Comfortable freshness for much longer. Ocean Fin is made of a corrosion resistant material that protects the condenser from oxidation, helping to maintain optimum performance of the heat exchanger. Its excellent corrosion resistance was demonstrated by Salt Spray Test (SST) for 480 hours.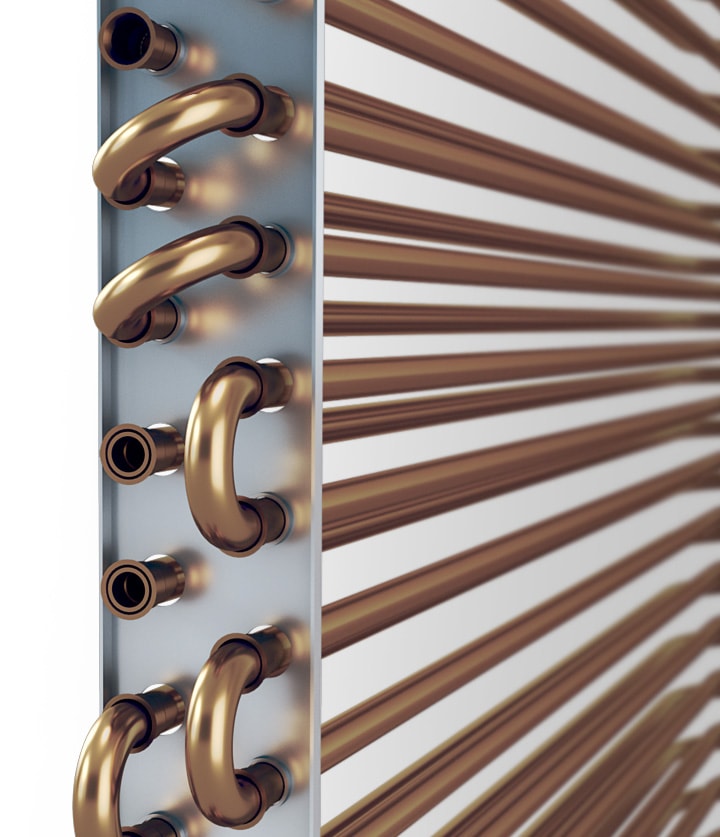 Stable and durable in harsh conditions
Triple Protector Plus
Enjoy long-lasting performance in challenging environments. Triple Protector Plus technology prevents damage from overcharging and unstable electrical currents, without the need for an additional voltage regulator. The anti-corrosion coating also protects the condenser and cabinet in harsh conditions.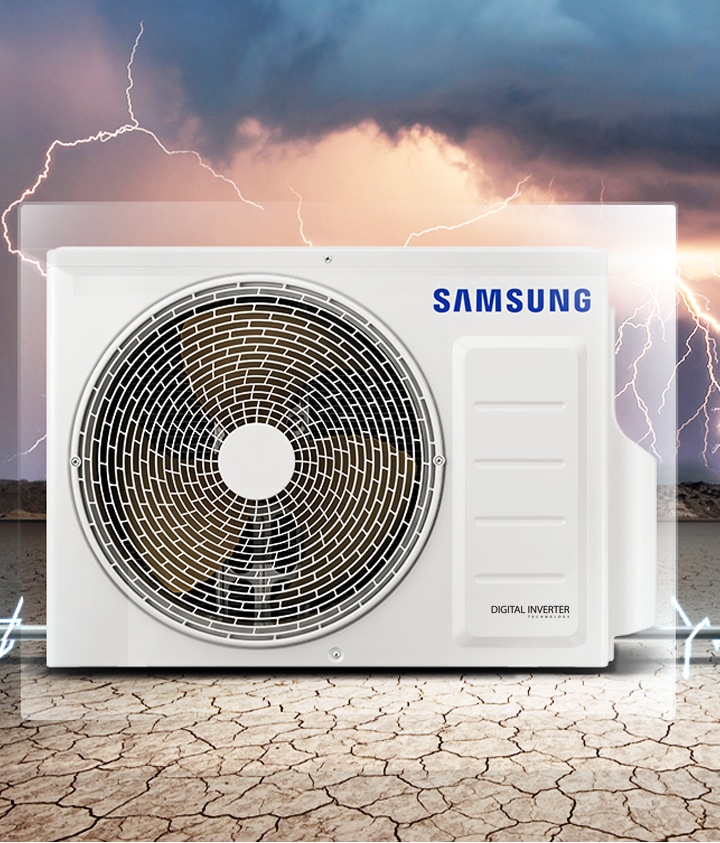 Energy saving and effective freshness
eco mode
Save energy and keep your spaces cool. ECO Mode uses less compressor capacity compared to Normal mode, which reduces energy consumption. Thus, you can cool the place more efficiently or simply save energy and money at any time, without worrying about the electricity bill.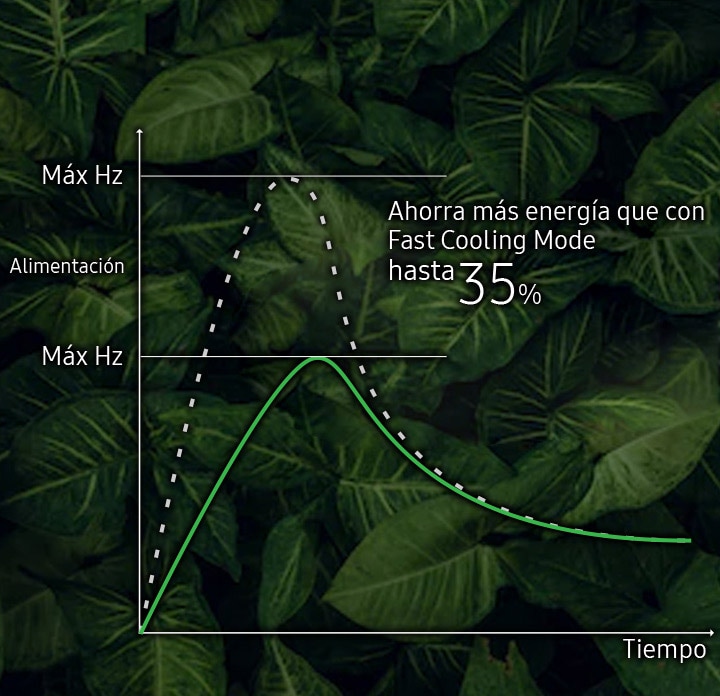 Specifications
Capacity (cooling / Btu/hr)

12,000 Btu/hr

Capacity (cooling kW)

3.52 kW

Net dimensions (outside, W × H × D) 790 × 548 × 285mm

EER (cooling W/W)

3.82 W/W
Specification Detail
Capacity (cooling / Btu/hr)

12,000 Btu/hr

Capacity (heating / Btu/hr)

13,600 Btu/hr

Capacity (Min. – Max. Cooling / Btu/hr)

3,000 ~ 14,500 Btu/hr

Capacity (heating Min. – Max. / Btu/hr)

2,600 ~ 20,000 Btu/hr

Capacity (cooling kW)

3.52 kW

Capacity (heating kW)

3.99 kW

Capacity (cooling, min – max, kW)

0.88~4.25kW

Capacity (Heating, min – max, kW)

0.76~5.86kW
SEER(Btu/hW)

22, 47

EER (cooling W/W)

3.82 W/W

COP (heating W/W)

3.62 W/W

EER (cooling Btu/hW)

13.04 Btu/hW

COP (Heating, Btu/hW)

12.36 Btu/hW
Noise level (interior, high/low, dBA)

39 / 20dBA

Noise level (exterior, high/low, dBA)

46dBA
Power source (Φ / V / Hz)

1/220~/60

Power consumption (cooling, W)

920W

Power consumption (heating, W)

1,100W

Operating current (cooling, A)

4.2A

Operating current (heating, A)

5A
Gross dimensions (inside, W × H × D) 880 × 290 × 375mm
Gross dimensions (outside, W × H × D) 913 × 622 × 371mm
Net dimensions (inside, W × H × D) 820 × 299 × 215mm
Net dimensions (outside, W × H × D) 790 × 548 × 285mm
Gross weight (inside, kg)

10.5kg

Gross weight (outside, kg)

36kg

Net weight (inside, kg)

9.2kg

Net weight (outside, kg)

31.7kg
Pipe length (Maximum, m)

15 m

Pipe height (Maximum, m)

8m

SVC valve (liquid [ODxL])

6.35

SVC valve (gas [ODxL])

9.52

Moisture Extraction (L/hr)

1.5 l/hr

Air circulation (cooling, ㎥/min)

10.7㎥/min

Coolant (type)

R410A

Refrigerant (Charge, kg)

1.00kg

Low ambient (cooling, °C)

-10~46℃

Low ambient (heating, °C)

-15~24℃

Outdoor unit (compressor type)

BLDC

External unit (anticorrosive)

YeS
Air direction control (up / down)

Automatic

Air direction control (left/right)

Automatic

Air Flow step control (cooling / fan)

5 / 4
PM 1.0 Filter

No

Tri Care Filter

Yes

Easy Filter Plus (Anti-Bacteria)

Yes

Auto Clean

Yes
SmartThings

Yes

AI Auto Cooling

Yes

Filter cleaning indicator

Yes

internal temperature display

Yes

Screen on/off

Yes

Sound on/off

Yes

24 hour timer

Yes

Automatic transition

Yes

Auto reset

Yes
Automode

Yes

Fast cool

Yes

Good sleep

Yes

Cco mode

Yes

Dehumidifier

Yes

Fan mode

Yes

Quiet

Yes
SmartThings App Support

Yes