Cooking from Fresh Ingredients Made Simple
Replace ready-to-heat convenience foods with healthy homemade meals thanks to the SamsungF300G microwave oven. With 20 pre-set cooking modes, you can prepare fresh food in minutes.
Enhance Your Kitchen Look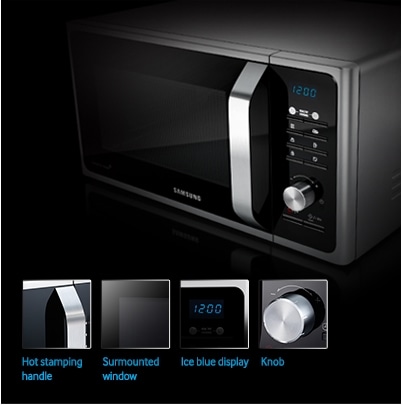 Enhance your kitchen with the stylish F300G microwave oven, featuring a black glass front encased in hairline pattern exterior with matching handle and a crystal blue display and detailed silver dial.
Keep It Clean with Ceramic
The F300G microwave oven features a smooth ceramic interior that is easy to clean and won't scratch or discolour over time. The anti-bacterial and scratch-resistant interior is made to last.
Save Money with ECO Mode
The ECO Mode setting on the new Samsung F300G offers the lowest standby power consumption, significantly reducing power usage to save on energy bills.
Cooked to Perfection
Achieve perfectly cooked dishes every time thanks to the Triple Distribution System – microwaves are delivered via three slots in the oven cavity for broader coverage and more accurate heat distribution.

Taste Favorite Traditional Recipes
Choose from a wide variety of pre-programmed local recipes on the Samsung F300G microwave oven and enjoy familiar flavors with the simple touch of a button.
2-year warranty on parts & labour available on this appliance**
Specifications
Full specifications
Capacity

0.8 cu.ft / 23 L

Heat Source

Solo

Power Level

6

Power
Output Power (Max)

800 W

Power Consumption (Microwave)

1,150 W

Power Source

230 V / 50 Hz
Cavity Interior

Ceramic Enamel

Display Type

LED

Control Method

Tact+Dial

Door Opening Type

Handle

Microwave Distribution

Turntable

Installation

CMO

Language Option

No
Various Cooking Mode

No

Max Cooking Time

99 min

More/Less

No

Cooking Stages

No

Weight/Serving Control

Yes

One Minute/30 sec Plus

30 sec+

Preheat

No

Auto Cook

Yes

Auto Steam Cook

No

Sensor Cook

No

Turntable On/Off

No

Deodorizer

Yes

Reminder End Signal

Yes

Setting (My Choice)
Child Lock

Yes

Clock System Option (12H/24H)

Yes

Sound Option

Yes
Grill Heater

No

Others

No

Option

No
Rack Round

No

Steam Cleaning

No

Steam Cooker

No

Power Steam Bowl

No

Crispy Tray

No

Rotisserie

No

Cook Book

No

Others

No
Cavity (W×H×D) 330×211×324
Outside (W×H×D) 489×275×374
Gross (W×H×D)552×326×423