Plate Warming
The Plate Warming feature warms dishes quickly (within max. 5 minutes) and keeps them perfectly warm until you're ready to serve. You can choose two kinds of warming modes (Hot or Mild) depending on the type of food.

CERAMIC INSIDE?
This microwave oven features a smooth Ceramic Enamel Interior that's easy to clean, won't scratch or discolour over time and provides 99.9% anti-bacterial protection.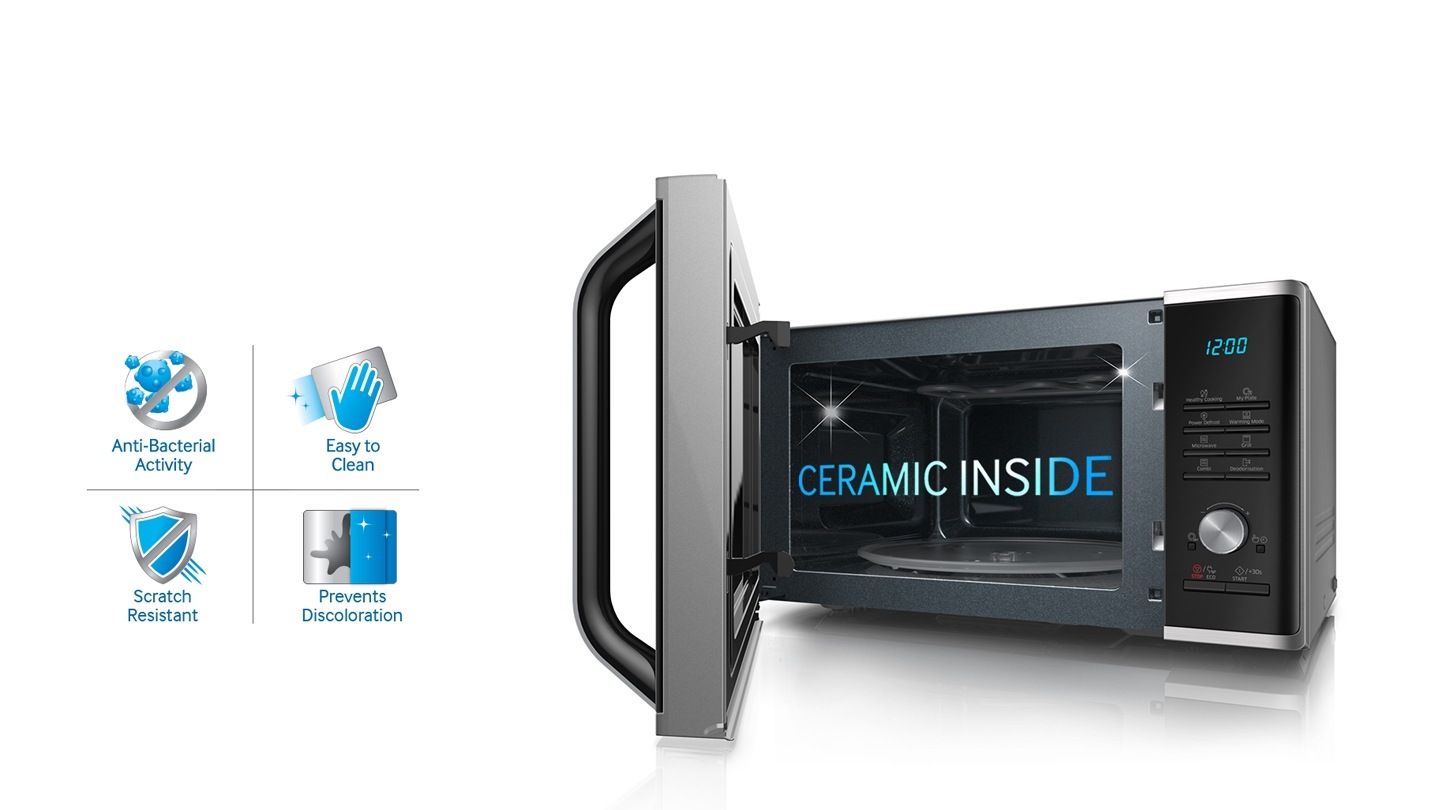 Deodorisation
Strong odours won't linger inside the Samsung smart oven. Simply select the Deodorisation setting to force interior air outside to dissipate. This feature helps your food taste as fresh and delicious as you intended it to be.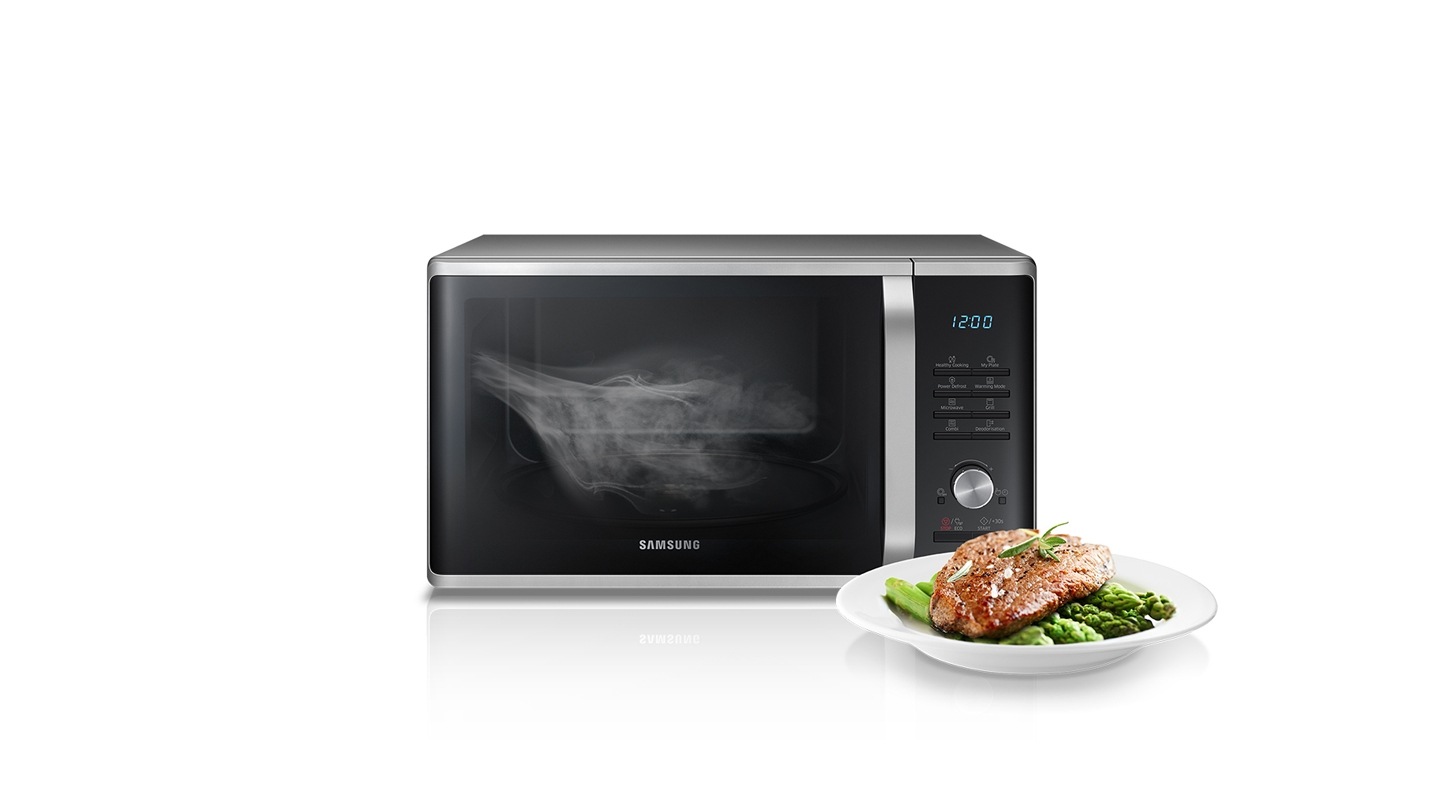 Healthy Cooking
Up to 16 recipes are pre-programmed for your convenience. You'll find it easy to cook everything – from green beans to brown rice, boneless chicken breast to grilled salmon steaks – confident that the result will be moist and flavourful.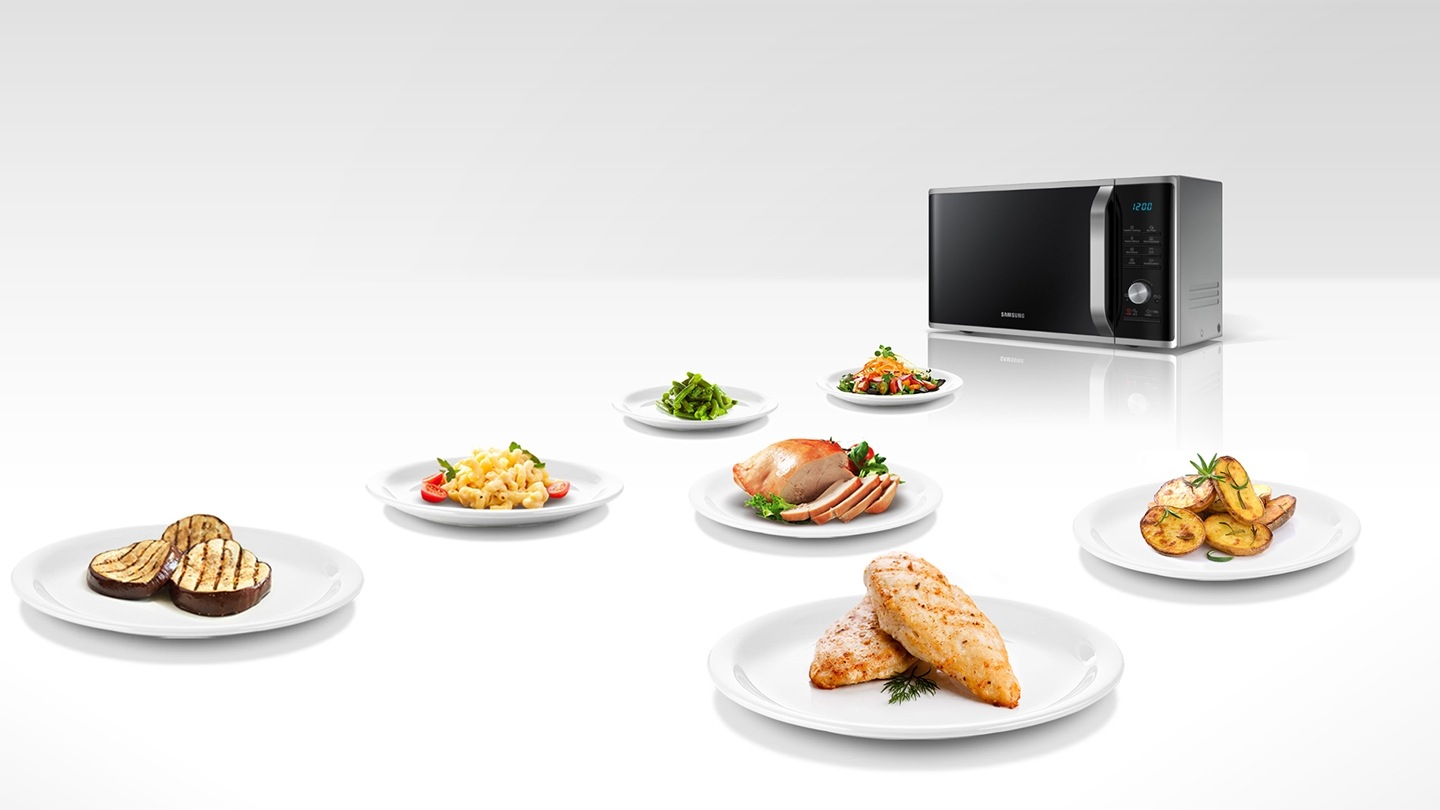 Eco Mode
This microwave has the world's lowest standby power consumption. You can save 40% on standby energy usage.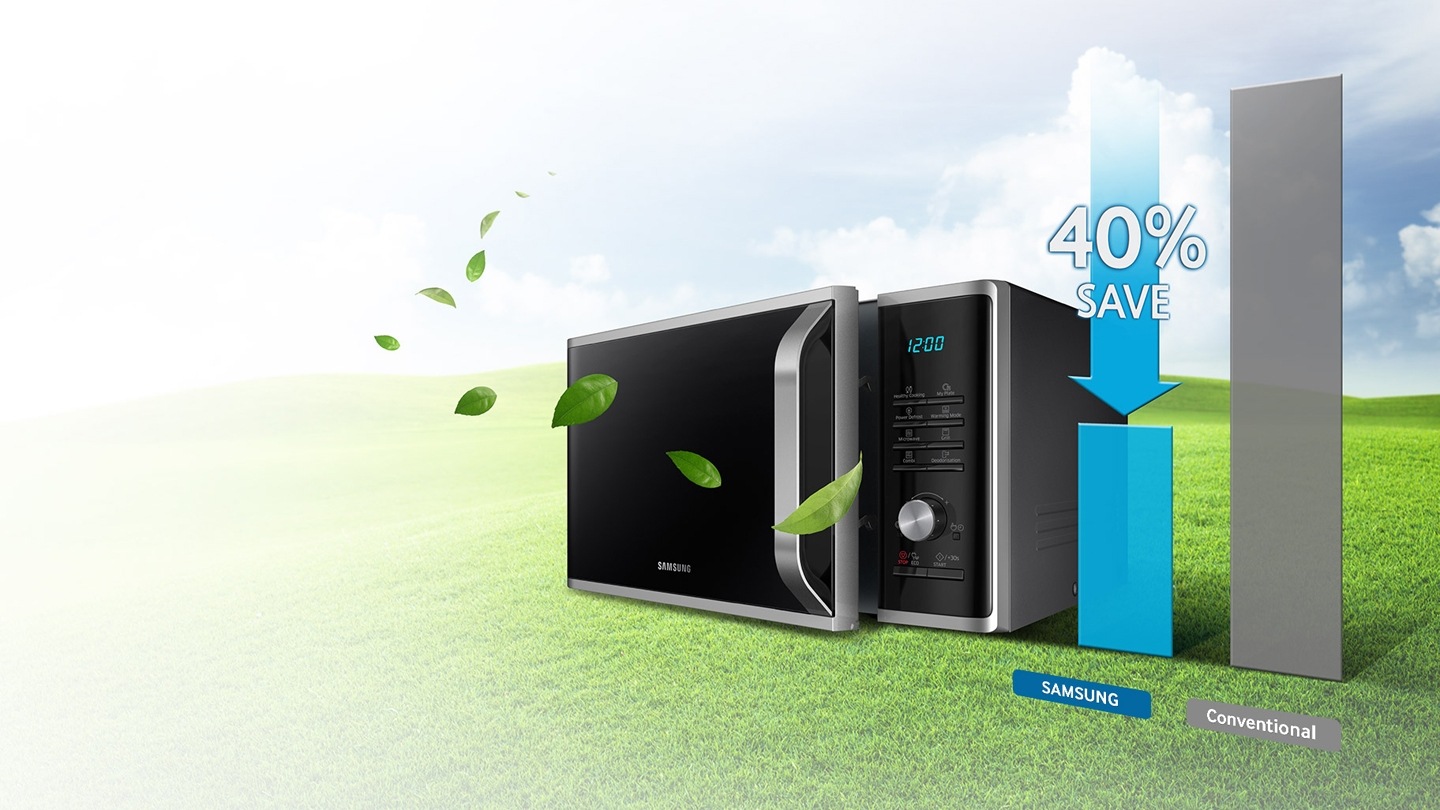 Power Defrost
Power Defrost lets you defrost frozen foods quickly and evenly. Food won't get soggy. Defrost them from their frozen state to the freshest, so you and your family can enjoy delicious food whenever you want.

Turntable On / Off
Turntable On / Off offers the option to disable the turntable, so you can use the entire interior space for larger, square-shaped dishes.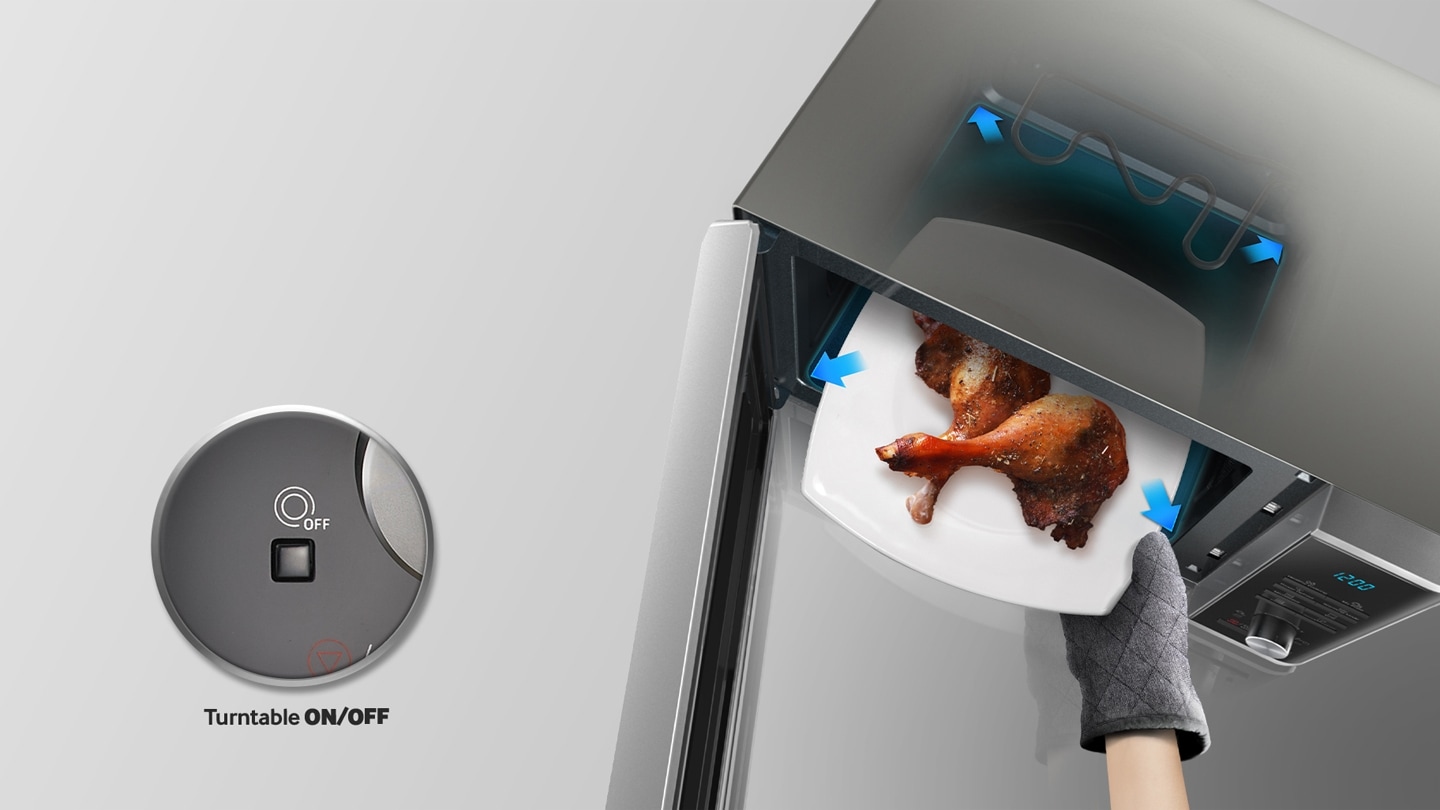 Oven Capacity

1.0 Cu.ft / 28 Litres

Power Consumption (Microwave)

1500 W

Outside (WxHxD)

517 x 297 x 428 mm
Full specifications
Product Type

Solo

Installation Type

Freestanding
Oven Capacity

1.0 Cu.ft / 28 Litres
Colour(Door)

Silver

Colour(Cabinet)

Neo Stainless Silver

Control Method

Tact + Dial

Door Type

Side swing handle

Cavity Material

Ceramic Enamel

Turntable Size

318 mm

Display Type

LEB
Power Source

230 V / 50 Hz

Output Power (Microwave)

1000 W

Power Consumption (Microwave)

1500 W

Power Level

7
Clock

Yes

30 sec. Plus

Yes

Eco Mode

Yes

Defrost (Auto / Power / Sensor)

Power (4)

Sensor Cook

No

Steam Cook

No

Auto Programs

Healthy cooking (16), My plate (2), Soten / Melt (4)

Steam Clean

No

Turntable On/Off

Yes

Deodorization

Yes

Child Safety Lock

Yes

Kitchen Timer

No

Memory

No

Sound on/off

Yes

Language Option

No

Others

No
Pro Steamer

No

Pure Steam Bowl

No

Power Steam Bowl

No

Steam Clean Accessory

No

Built-in Kit (Trim Kits)

No

Cook Book

No

Quick Guide Label

Yes

Others

Plate warming bowl
Cavity (W×H×D) 357 × 255 × 357 mm
Outside (W×H×D) 517 × 297 × 428 mm
Shipping (W×H×D) 570 × 362 × 466 mm
Weight (Net)

14.5 kg

Weight (Shipping)

16 kg

Loading Quantity (20/40ft)

280 / 595 Loading Quantity