Food Warming
The Food Warming function keeps your food warm without over-cooking. This helps it retain the flavours and textures it had when initially cooked until you are ready to serve.
An easy way to cook
Up to 16 recipes are pre-programmed, so you can easily cook foods ranging from green beans to brown rice, boneless chicken breast to grilled salmon steaks.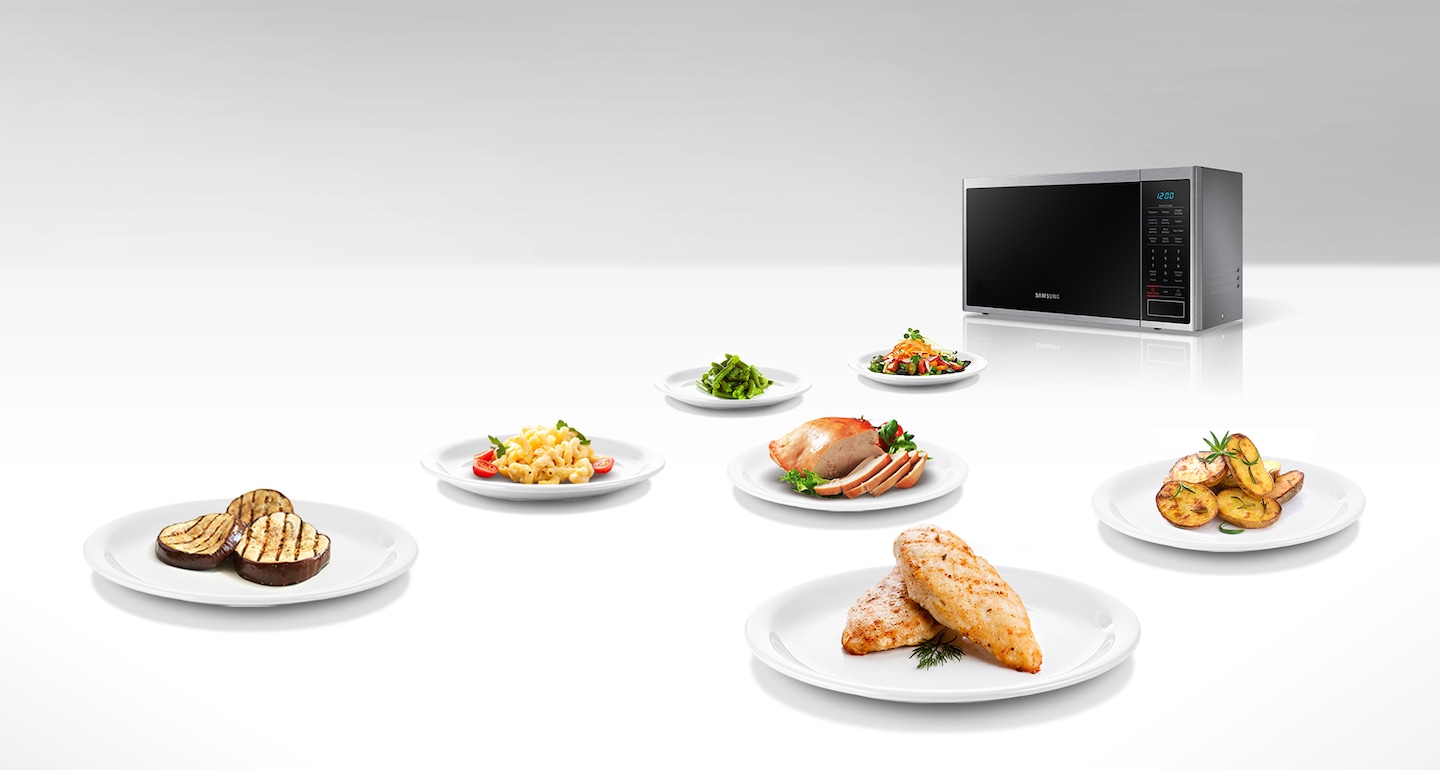 Soften / Melt
Softening butter or melting chocolate? The Samsung Microwave acts as your sous chef. Select from four modes for chocolate, sugar, or butter, for perfectly softened or melted recipe ingredients.

Ceramic Inside™
With a smooth ceramic interior that is easy to clean and won't scratch or discolour over time. The anti-bacterial properties are proven to provide 99.9% protection. It is scratch-resistant and made to last.

Power Defrost
Power Defrost lets you defrost frozen foods quickly and evenly.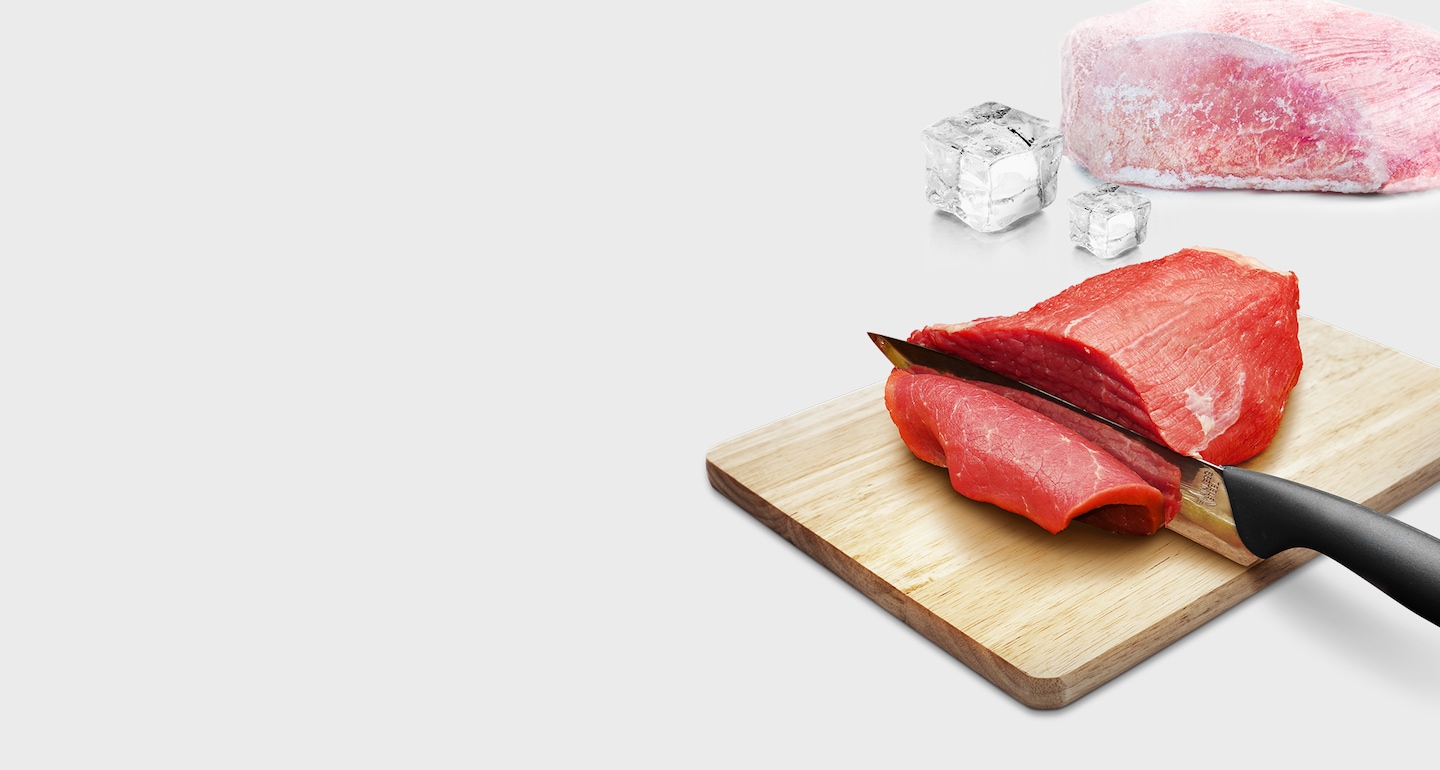 Saves on standby
ECO Mode reduces energy consumption on standby power. When you're not cooking, the power used to maintain essential functions is kept to the minimum.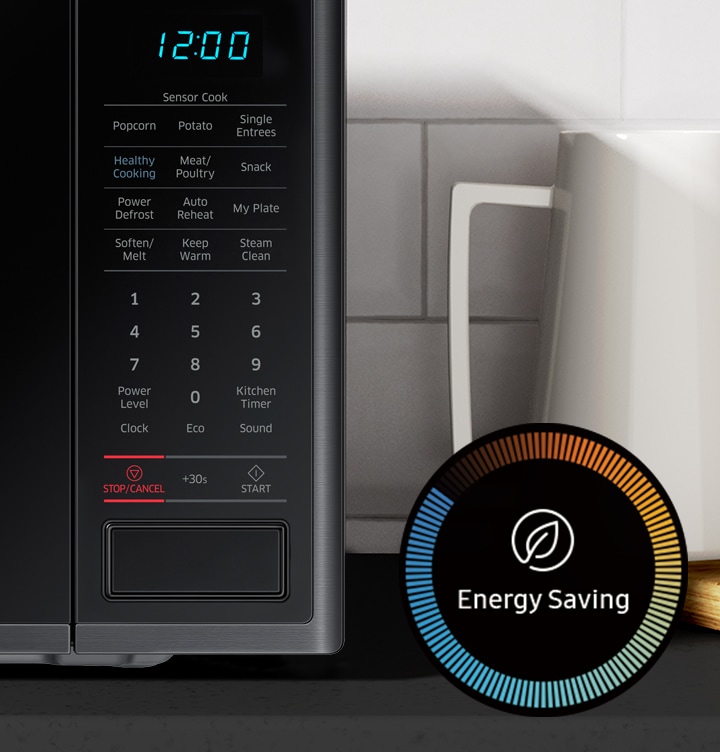 Specifications
Product Type:

Solo

Installation Type:

Freestanding
Oven Capacity:

32L (1.1Cu.ft)
Colour(Door):

Black STSS

Colour(Cabinet):

Black

Control Method:

Membrane

Door Type:

Push Button

Cavity Material:

Ceramic Enamel

Turntable Size:

318 mm

Display Type:

LED (Ice Blue)
Power Source:

240V / 50Hz

Output Power (Microwave):

1000 W

Power Consumption (Microwave):

1500 W

Power Level:

10
Clock:

Yes

30 sec. Plus:

Yes

Eco Mode:

Yes

Defrost (Auto / Power / Sensor):

Power

Sensor Cook:

Yes

Steam Cook:

No

Auto Steam Cook:

No

Auto Programs:

Yes

Auto Cook:

Yes

Keep Warm:

Yes

Steam Clean:

Yes

Turntable On/Off:

No

Deodorisation:

No

Child Safety Lock:

Yes

Kitchen Timer:

Yes

Memory:

No

Sound on/off:

Yes

Language Option:

No

Others:

No
Pro Steamer:

No

Glass Steamer:

No

Pure Steam Bowl:

No

Power Steam Bowl:

No

Plate Warming Bowl:

No

Steam Clean Accessory:

Yes

Built-in Kit (Trim Kits):

No

Cook Book:

No

Quick Guide Label:

Yes

Others:

No
Cavity (W×H×D): 357 mm × 255 mm × 357 mm
Outside (W×H×D): 517 mm × 297 mm × 384 mm
Shipping (W×H×D): 578 mm × 374 mm × 446 mm
Weight (Net):

14.5 kg

Weight (Shipping):

16.0 kg

Loading Quantity (20/40ft):

288/729
Manufacturer / Importer:

Samsung Electronics Co.,Ltd.

Product Origin:

Malaysia

Packing Case:

Colour