Stylish & harmonious
Stylish Minimal Design
Give your home a stylishly modern and minimalist look. The Stylish Minimal Design has a clean and contemporary appearance.So it will fit harmoniously into your kitchen. It features an elegant stainless steel finish and beautiful flat doors. And vertical handles emphasize its elegant symmetry.
Smarter & durable
DIT
Enjoy long-lasting performance, energy efficiency of up to 50%*, precise temperature and less noise compared to a conventional compressor. Digital Inverter Compressor gradually speeds up and slows down in response to cooling requirements across 7 gears by utilising smart sensors. Adjusting speed means it suffers less wear and tear, making it durable and it operates silently. This durability is backed up by a 20-year warranty*.
* Based on internal testing comparing energy consumption (ISO 15502) between Samsung conventional model RT46K6**5(6)** and RT54E****
** 20-year warranty is limited to the compressor only.
Frost free freshness
No Frost
Preserve the freshness of food for longer without freezing. No Frost technology maintains a constant optimal temperature in every cornerby enhancing the air circulation. It stops the build up of ice on food, like vegetables, so they stay tasting fresh. And avoids the need to defrost your fridge.
* Based on a comparison of the Samsung frost fridge RB31FERNCWW and No Frost fridge RL39THCTS. Individual results may vary depending on consumer usage.
Cools every corner
All-around Cooling
Make sure that everything in the fridge is cooled effectively, so food stays fresher. The All-around Cooling system cools every inchof the fridge evenly from corner to corner. Cold air is blown out through multiple vents on every shelf level to maintain a constant and optimal temperature.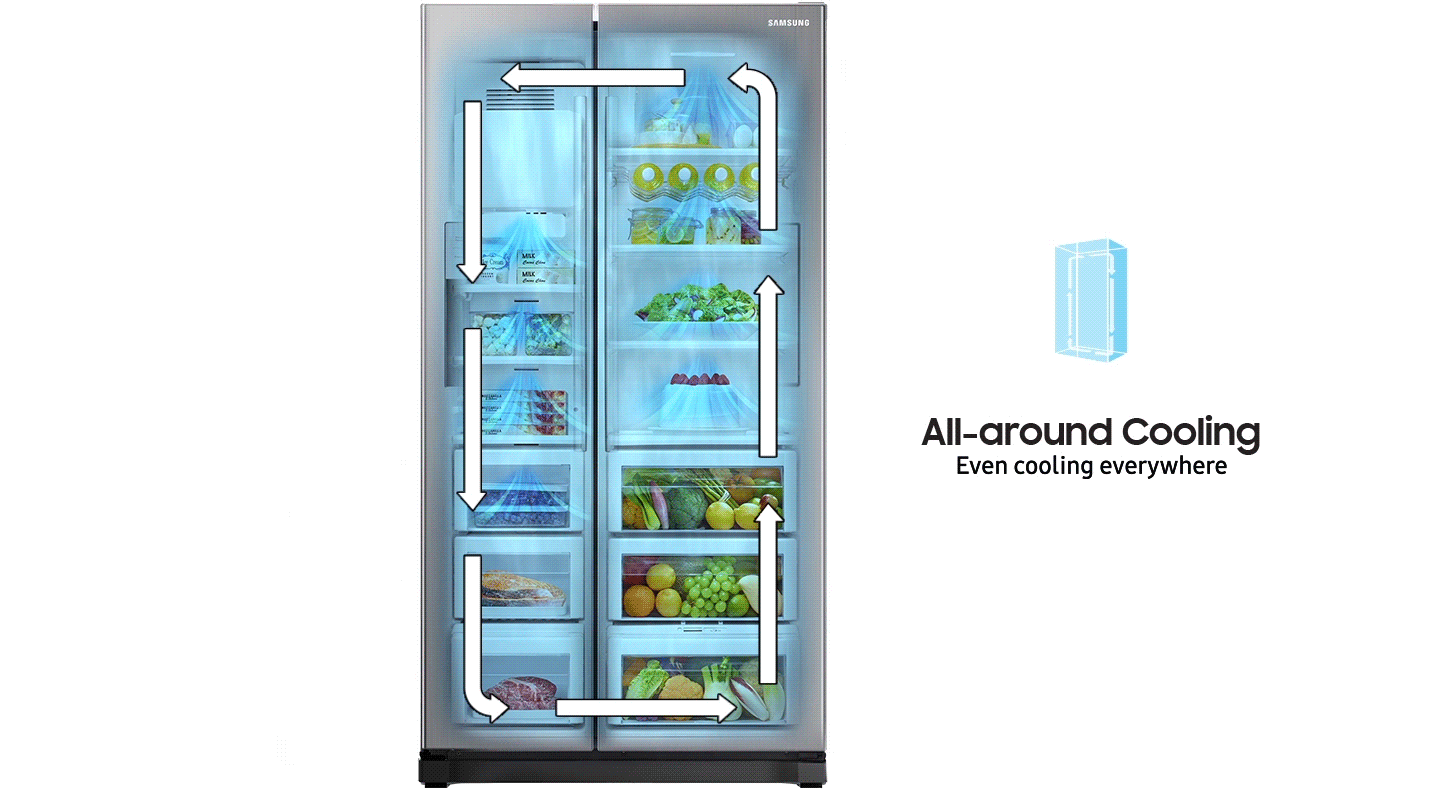 Powerful freezing
Power Freeze
Freeze your food or make ice in a flash! At the touch of a button, the Power Freeze function automatically sets the freezer temperature to the lowest level and creates a rapid blast of intensely cold air. It's great for freezing or firming up frozen food, like ice cream, and making ice quickly.
Neatly store more
Dairy Guard
Organize and neatly store dairy produce and wine. An optional Dairy Guard/Wine Rack is specially designed to store your favorite dairy foods. It can also safely hold bottles of wine, so they don't roll around. You can make the best use of the available space and easily reach everything you need.
One touch drinks!
Home Bar (Optional)
Grab a refreshing drink whenever you like. An optional Home Bar provides easy access to your favorite drinks with minimal loss of cool air.It is seamlessly integrated in the fridge door without handles. Simply press its one touch, easy opening cover and it flips down, so it also serves as a shelf.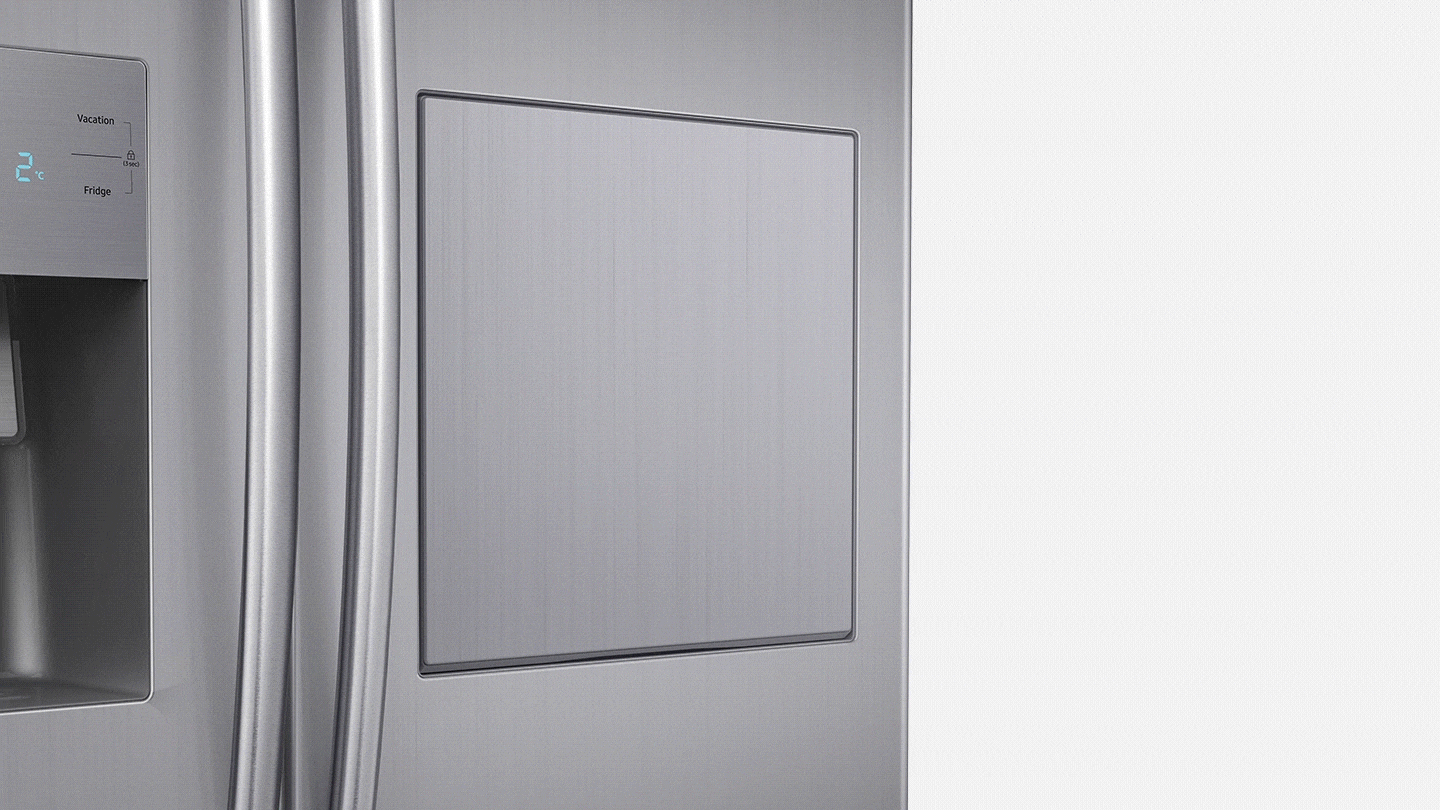 Specifications
Gross Total (liter): 535‎

Cooling Type: Mono Cooling

Energy Efficiency Class: F

Net Width (mm): 912‎

Net Case Height with Hinge (mm): 1789‎

Net Weight (kg): 106‎
Specifications Detail
Capacity
Gross Total: 535‎

Gross for Freezer: 175‎

Gross for Fridge: 360‎
Physical specification
Net Width: 912‎

Net Case Height with Hinge: 1789‎

Net Depth with Door Handle: 734‎

Net Depth without Door Handle: 672‎

Net Depth without Door: 605‎

Packing Width: 974‎

Packing Height: 1907‎

Packing Depth: 776‎

Net Weight: 106‎

Packing Weight: 113‎
Cooling Features
No Frost: Yes

Multi Flow: Yes

Power Cool Function: No

Power Freeze Function: Yes

Cooling Type: Mono Cooling
Cooling Features
No Frost: Yes

Multi Flow: Yes

Power Cool Function: No

Power Freeze Function: Yes

Cooling Type: Mono Cooling
Refrigerator Features
Deodorizer Type: No

Number of Shelf (Total): 5‎

Dairy Compartment: Yes

Wine Rack: No

Number of Door Pocket: 4‎

Egg Container (Egg Tray): Yes

Interior LED Light: LED

Shelf Material: Tempered Glass

Number of Vegetable&Fruit Drawer: 2‎
Freezer Features
Number of Shelf (Total): 3‎

Freezer Star Rating: 4‎

Number of Door Pocket: 3‎

Icemaker: Automatic

Interior LED Light: LED

Number of Drawer: 2‎
General Features
Door Alarm: Yes

Refrigerant: R-600a

Cyclopentane Insulation: Yes

Autonomy Hour (Temp rising): 6 h

Compressor: Digital Inverter Compressor
Exterior Feature
Display Type: External

Door Handle: Bar (Arc)

Colour: Empire Black

Dispenser Type: Ice & Water

Door Type: With Homebar
Performance
Energy Efficiency Class: F

Noise Level: 42 dBA

Climate Class: SN, N, ST, T

Cooling Capacity: 11‎

Energy Consumption: 395 kWh‎

Vacation Mode: Yes