Dry efficiently and gently
A++ Energy Efficiency with Heat Pump Technology*
Our Heat Pump Technology is the way forward for drying your laundry more efficiently. By reheating the air in the drum, it's gentler on even the most delicate of delicates. And it means you'll use less electricity compared to a traditional condenser or vented tumble dryer, making it kinder on your bills and the environment too.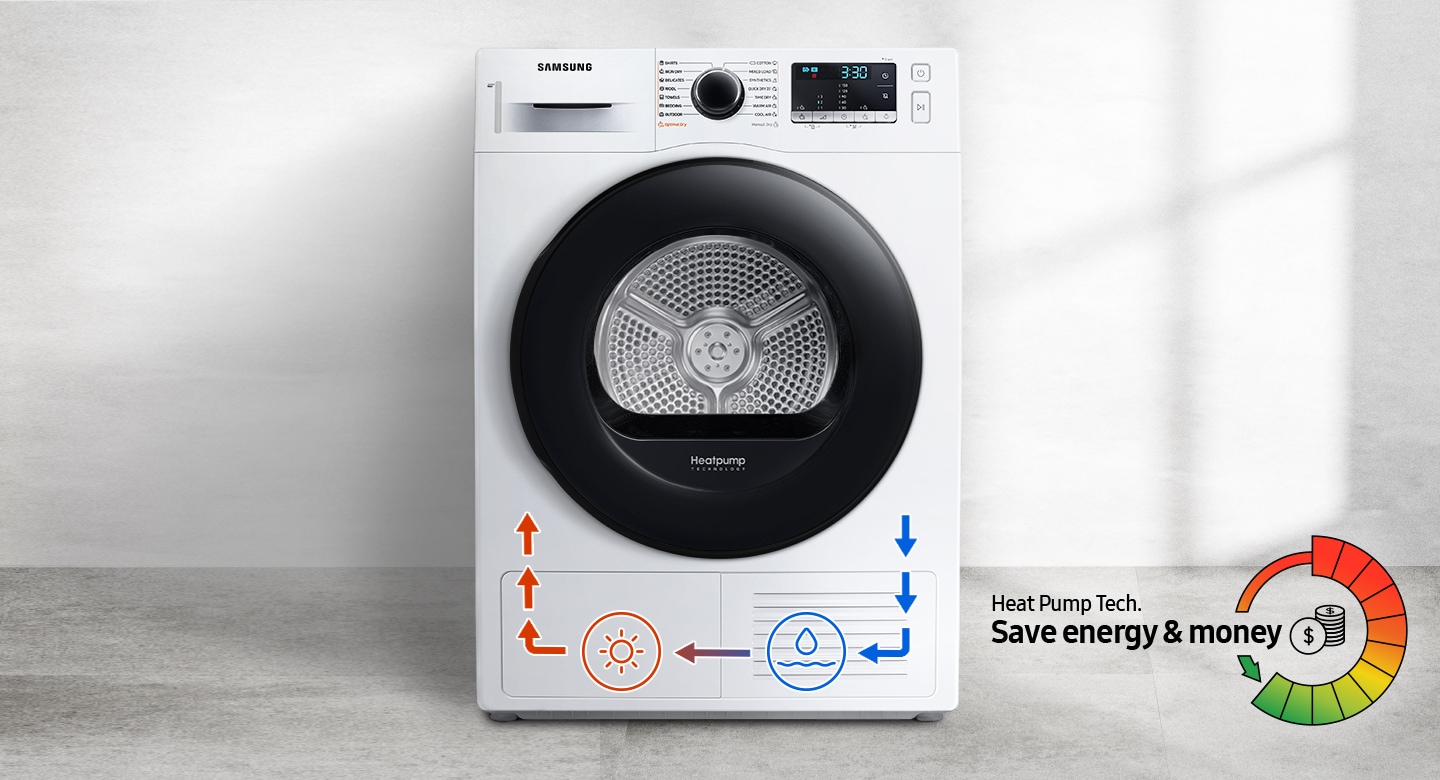 Dry out
OptimalDry
You need to tumble dry but don't want to use too much energy. Our OptimalDry™ smart technology uses moisture and temperature sensors to adjust the drying time. As well as protecting your clothes from damage, it saves energy too.
Left or right opening? You decide
Reversible Door
Feel free to put your Samsung tumble dryer where you want in the home, and adjust the door to work with the space. The reversible door lets you choose if it opens on the left or the right of the tumble dryer. Then it's easy to load and unload your laundry, and it's even easier if it's positioned next to the washing machine.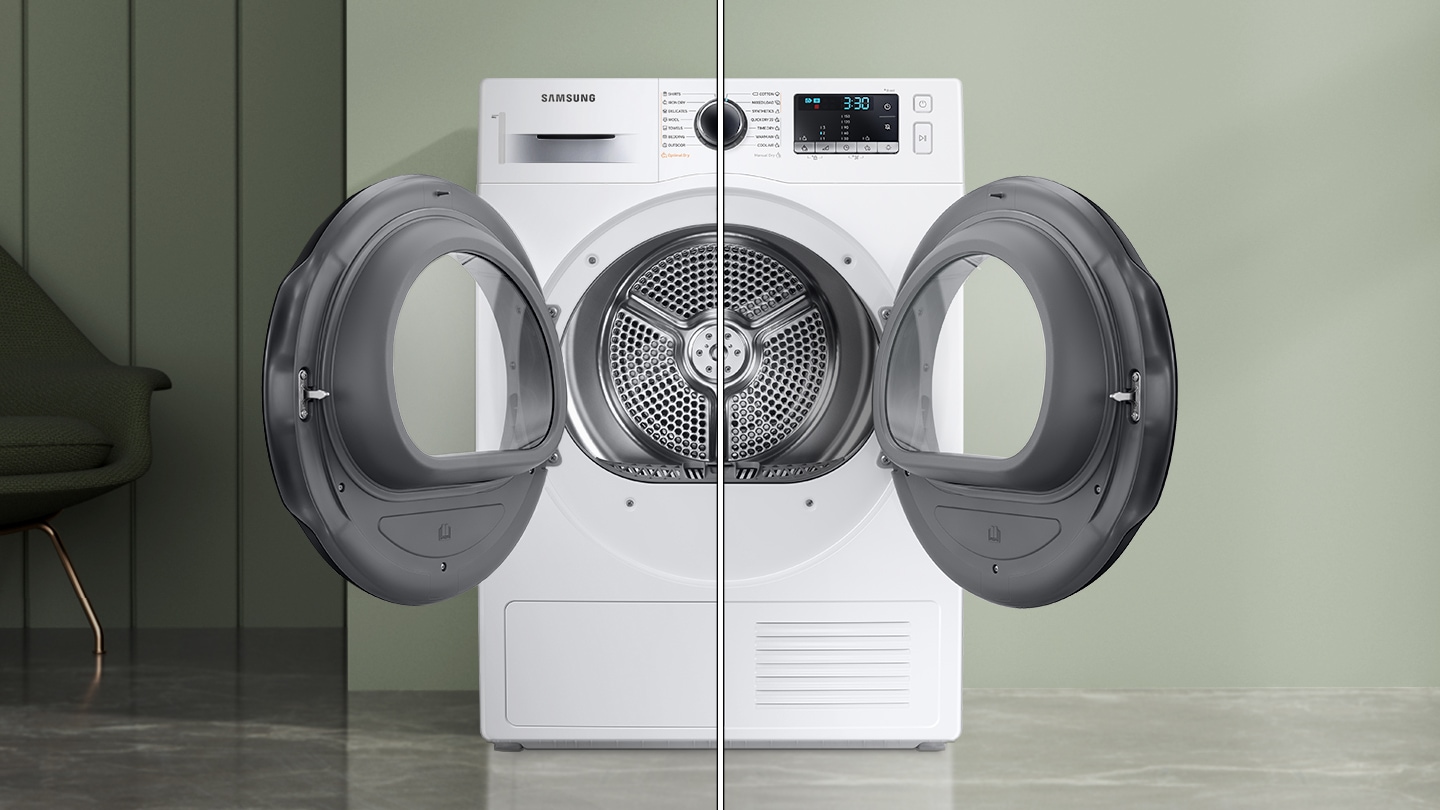 * Only available on certain models.
Dry in no time
Quick Dry 35′
Need your favourite top dry for an impromptu night out? The 35 Minute Quick Dry cycle dries a load of clothes in just over half an hour*. How handy is that? It's ideal for loads of up to 1kg.
* May vary depending on the type of fabric.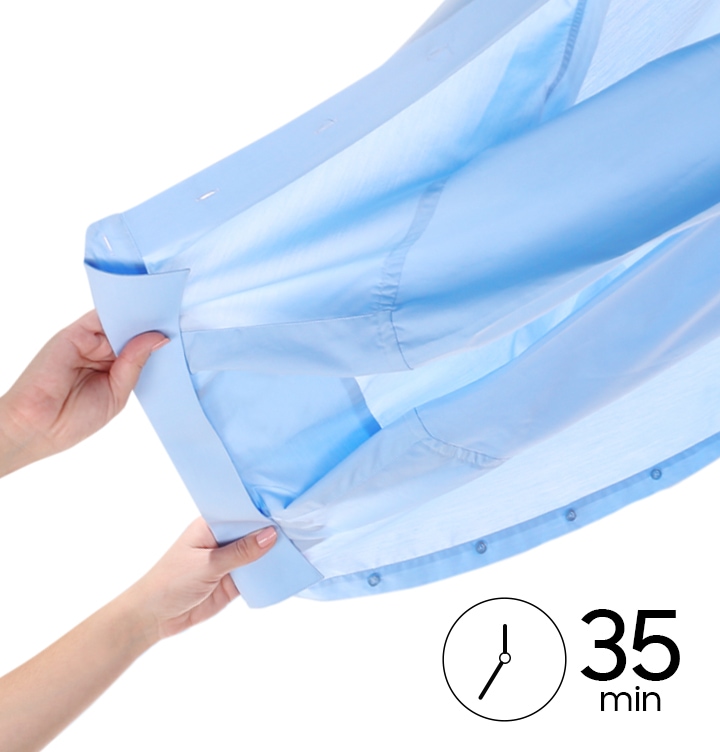 Double up on drying, not cleaning
2-in-1 Filter
Looking after your machine will make it last longer and get your laundry nice and dry every time. Maintain your tumble dryer and optimise the drying performance with our 2-in-1 filter which collects fluff, meaning the heat exchange filter needs cleaning less often. And in case you forget, the handy clean alarm reminds you when it needs to be done.
Fewer wrinkles, less ironing
Wrinkle Prevent
Lighten your ironing load with a drying feature that works wonders on smoothing wrinkles and creases. Once your cycle ends on your tumble dryer, select the clever Wrinkle Prevent setting. It will cool the clothes down and rotate the drum. This means your dry clothes don't sit too long in one place to pick up creases. Then just grab your clothes and you'll be good to go.
Specifications
Drying Capacity (kg):

8.0 kg

Energy Efficiency Class:

A++

Net Dimension (W×H×D): 600 × 850 × 600 mm
Full specifications
Drying Capacity (kg):

8.0 kg
Body colour:

Inox

Door:

Carved Door (Black)

Panel Display:

LED
Type of Dryer:

Heatpump

Cycle time (min):

190 min

Energy Efficiency Class:

A++

Energy Consumption (annual):

235

Condensation Efficiency Class:

B

Noise Level (Dry):

65 dB

Refrigerant (Type):

R134a(Fluorinated greenhouse gas, GWP=1,430)

Refrigerant (Charging, kg):

0.43

Refrigerant (Charging, t CO2e, Hermetically sealed):

0.61
Interior Drum Light:

Yes

Reversible Door:

Yes

Child Lock:

Yes

Delay End:

Yes

Drum type:

Diamond

Dry Level:

3 Levels

Drying Rack:

No

Drying Time selector:

Yes

Mixed Load Bell / Damp Alert:

Yes

Wrinkle Prevent:

Yes

OptimalDry System:

Yes
Cool Air:

Yes

Iron Dry:

Yes

Outdoor:

Yes

Time Dry:

Yes

Towels:

Yes

Warm Air:

Yes

Wool:

Yes

Option List:

Delay End, Alarm Off, Lamp, Wrinkle Prevent, Child LockDry Level, Dry Time, Damp Alert, Smart Check

Bedding:

Yes

Quick Dry:  35′

Yes

Cotton:

Yes

Delicates:

Yes

Mixed Load:

Yes

Shirts:

Yes

Synthetics:

Yes
Net Dimensions (W×H×D): 600 × 850 × 600 mm
Net Weight:

50 kg

Full Depth Including Protruding Part:

650 mm

Drum Material:

Coated Steel