What is there to love about LG air conditioners?
Take care of energy and our planet

Don't bother and sleep soundly
Take care of energy consumption and the planet
Reduce your energy consumption and your electricity bill with more efficient cooling
 

LG Inverter air conditioners (US-Q242K*) save up to 70% more energy than LG non-inverter air conditioners (TS-H2465DAO). *Initial temperature (outdoor 35℃ , indoor 33℃ ), set temperature (26℃), test time (8 hours).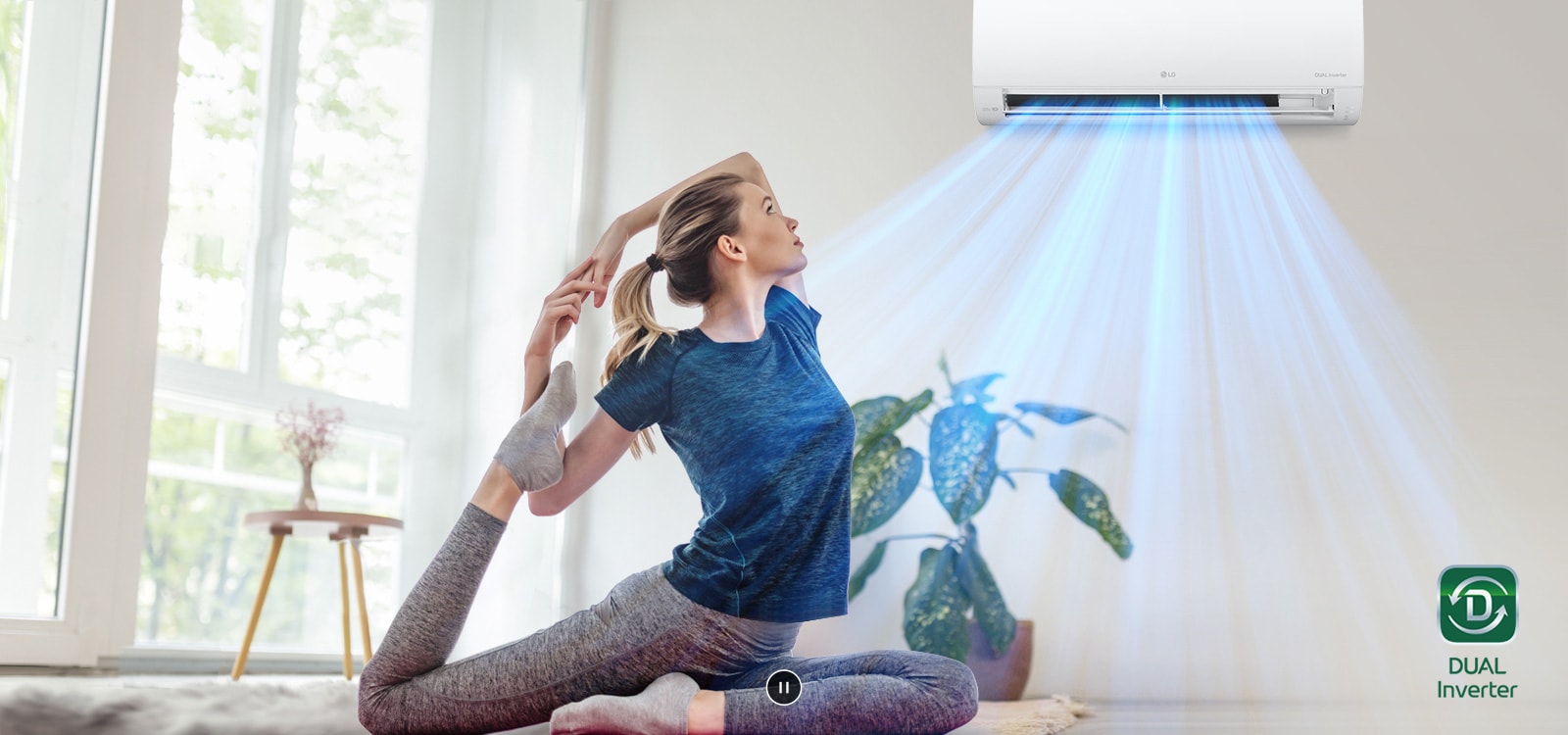 Fast Cooling, Fast Comfort
Get the convenience of fast cooling with the LG DUAL Inverter Compressor™.
 

LG inverter air conditioners (US-Q242K*) cool up to 40% faster than non-LG inverter air conditioners (TS-H2465DAO). *Initial temperature (outside 35℃ , inside 33℃ ), setting temperature (26℃ ).
A good job goes unnoticed
Do not be disturbed and sleep soundly with the air conditioning that makes less noise
*According to LG internal test, LG DUAL Inverter air conditioner is less than 19dBA. (Model – V10API)
DUAL Inverter Compressor™
Efficient, Faster, Durable, Quiet
Powered by DUAL Inverter Compressor™ technology
Catches big dust early on
Traps large dust particles as a first line of defense
An internal cleaning that is automatic
It automatically dries any moisture inside the air conditioner to ensure it is always clean.
Easy and fast installation

Enjoy fresh air with an air conditioner that takes less time and effort to install.

A more comfortable sleeping environment

Experience a more comfortable sleep environment with auto-adjust features 1 ).

Safety against voltage fluctuations

Enjoy long-lasting air conditioning with an ability to withstand voltage fluctuation 2 ).
1) When the comfortable sleep function is activated
2) Internally tested LG rated voltage (220 / 115V) ± 25% fluctuation and may vary depending on the environment.
The voltage at which the product operated normally as expected behavior is within 15% of the rated voltage (guaranteed voltage). Continuous operation is possible in the voltage range of 15% or more, but product performance may be degraded.
Test condition : Cooling mode, set temperature. 19 , room condition 32℃ (indoor) / 48 (outdoor)
Test models: S4-C12TZCAA, S4-Q09AA31C, S4-W12JA31A
Longer lasting anti-corrosion coating
Gold Fin TM ensures that the surface is more resistant to corrosion and improves the durability of the heat exchanger for a much longer period.
 

TUV has verified that the corrosion area of ​​Gold Fin‍ is not more than 0.05% (over RN 9.5))

<Test Condition>

– Test Standard : ISO9227:2017, ISO10289:1999, ASTM B 117 Salt Spray Test

– Test Sample : AI Fin Sheet (100㎛, 70 X 150㎜) + Organic Coating (1.65g/㎡)

– Setting Condition: (35±2)℃, 6.5 ~ 7.2 pH, (5±1)% NaCl fog salt spray, 5000 hrs

– Test result : Not more than 0.05% corrosion area ratio. (about RN 9.5)
Soft LED lights appear when power on or use standby mode.