Delight Your Senses with NatureFRESH
Enjoy fresh food and produce. Delight your senses for a joyful eating experience.
Precise Temperature Control.
Up to 32%* Faster & Even Cooling Everywhere
The air vents located at the front of the fridge help maintain temperature to keep your food items fresh.
The FRESHBalancer™ securely retains moisture, while the moving controllers maintain the optimal humidity for fruits and vegetables, depending on the mode you set.
Choose Optimum Temperature by Food Type
FRESHConverter™ maintains optimal condition of your meat, fish and vegetables respectively.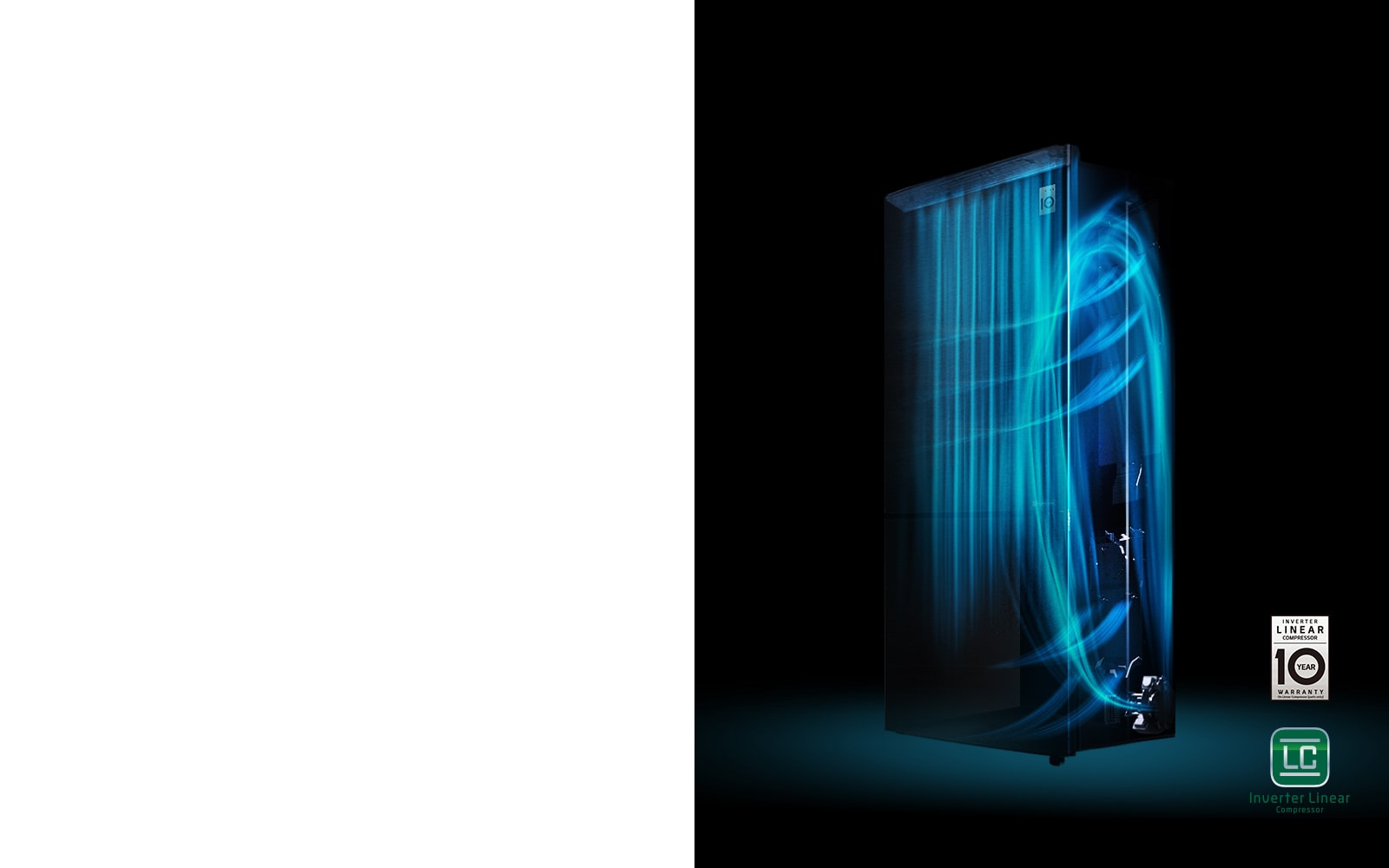 Inverter Linear Compressor
10 Year Warranty On Linear Compressor
LG Inverter Linear Compressor has less noise than conventional compressor thanks to LG's advanced technology. It also saves more energy and provides higher reliability and greater durability with 10 year* parts warranty on the compressor.
CAPACITY

Net Capacity: 341L

Fresh Food Capacity: 234L

Freezer Capacity: 107L

DIMENSIONS (W × D × H) mm

595 × 682 × 1860

COMPRESSOR

Inverter Linear Compressor

FEATURE

DoorCooling+
SPECIFICATIONS
ISO Gross – Total

374

Fresh Food Capacity

234

Freezer Capacity

107L
Energy Consumption

254 kWh/yr
Energy Efficiency Rating: 4 Star
Height (Net) – to Top of Case (B)

1860

Depth (Net) – without door (C)

615

Depth (Net) – without handle (D) (Pocket handle)

682

Depth – While door open

1130

Width – While door open

995

Width (Net)

595

Width × Height × Depth – Product

595 × 1860 × 682

Width × Height × Depth – Packing

651 × 1953 × 754
Display – Exterial LED

Yes

Temp. control – Digital Sensors (RT Sensor)

Yes

Temp. control – Express Freeze

Yes

Temp. control – Express cooling

Yes

Temp. control – Door alarm

Yes

Temp. control – Eco Friendly

Yes

Smart Diagnosis

Yes

Wi-Fi

Yes

Temp. function – Door Cooling

Yes

Sound Power(dB)

36

Energy Consumption (kWh/year)

254

Storage time during malfunctions (hr)

16hr

Freezing Capacity (kg/24hr)

12kg/24Hr

Refrigerant

R600a

Inverter Linear Compressor

Yes

Climate Class

T

Finish (Door)

P/Silver3

Finishing (Case)

PCM

Handle Type – Type (Name of handles and Easy open)

Pocket

Reversible Door

Yes
Lamp

LED Panel (Top)

Multi-Flow

Yes

Shelf – Tempered Glass

Yes (2)

Shelf – Wine Rack

Yes (Full)

Door basket – Transparent

Yes

Door basket – 2ℓ Bottle Storage

Yes

Matallic Decoration (Hot Stamping) – Door cooling

Yes

Veg Box Cover T/V – Tempered Glass

Yes

Vegetable Box – One

Yes

Vegetable Box – Moist Balance Crisper

Yes

Egg Tray

Yes
Ice Tray

No

Big Box – Easy for use

Yes

Shelf – Tempered glass

Yes

Drawer – Transparent

Yes (3)