"How to keep our foods fresher and longer?"
"The solution is precise temperature control."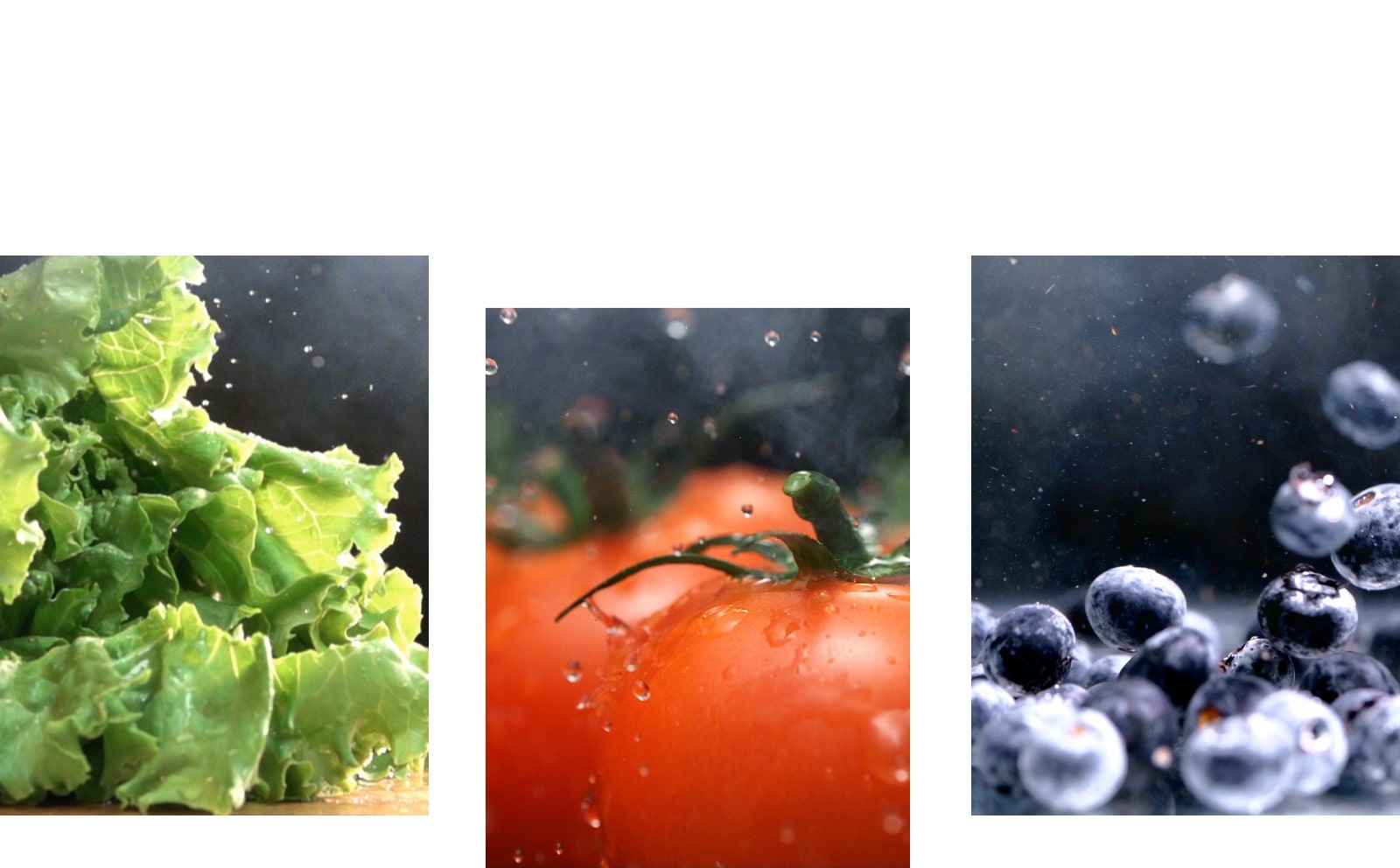 Seals in Farm Freshness Longer
LinearCooling™ reduces temperature fluctuations, locking in the flavor of fresh for up to 7 days.
*Based on UL test results using LG's internal testing method measuring the time it took to reach the 5% weight reduction rate of pak choi on the shelf of the fresh food compartment of the LGE LinearCooling™ model. Applicable models only. The result may vary in actual usage.
Delivers Freshness Evenly & Faster
Drinks are colder and food stays fresher with the even and faster performance of DoorCooling+™.
*Based on UL test results using LG's internal testing method comparing time for the temperature of the water container placed in the top basket to drop between DoorCooling+ and Non-DoorCooling+™ models. Applicable models only. The images of the product are for illustration purposes only and may differ from the actual product.
DoorCooling+™ is supposed to stop when the door is opened.
Hygiene FRESH+™
Minimize bacteria and odors, maximize freshness
Keep your fridge clean with Hygiene Fresh+™, which deodorizes and removes up to 99.99% of bacteria.
*Bacteria : Staphylococcus aureus, Escherichia coli, Listeria monocytogenes, Klebsiella pneumoniae
Confirmed by Intertek on all process and results, ISO 27447 Test Protocol.
The number of bacteria was counted before and after a four hour reaction made by the injection of the 0.2 ml bacterial solution into the antibacterial filter.
Bacterial removal performance is the laboratory test result where directly injected bacteria into the filter were counted. Results may vary in real use conditions.
Save your time for defrosting
Fresh 0 Zone is controlled at temperature around 0℃ and it helps you start cooking without time-consuming thawing.
Cooling air is supplied in every corner of refrigerator with multiple cooling air vent.
Touch LED Display provides the pleasure of operating and enhances elegance of your refrigerator.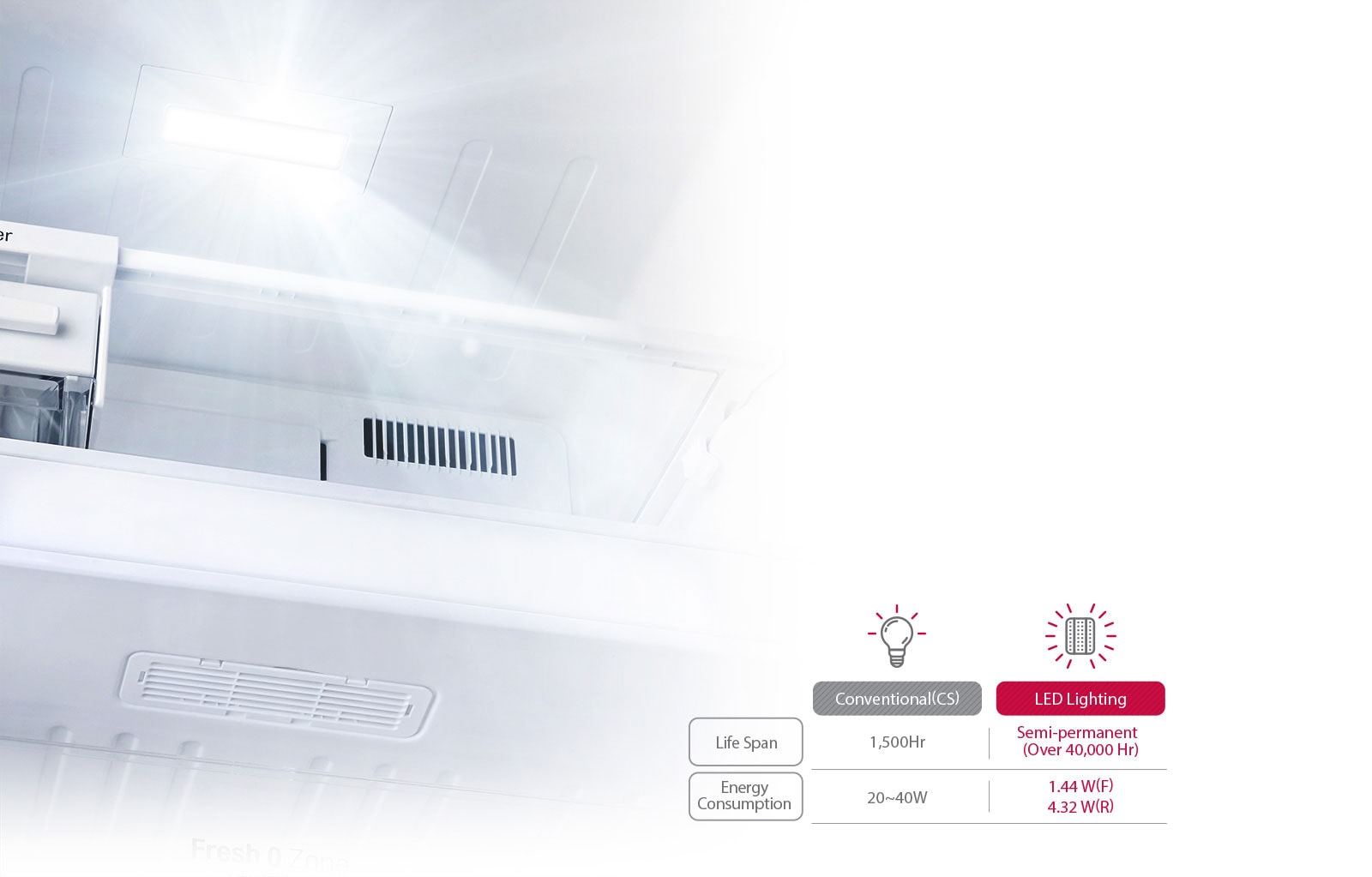 Energy Efficient & Longer Life Span
LED Panel Lighting is more energy efficient & has longer life span than conventional bulb lighting.

You can easily take out and move the ice
tray whenever you need more freezer space.
Fast & Convenient Control
With Smart ThinQ™, you can control and diagnose your refrigerator by your smart phone even when you're not at home. Easily set the refrigerator temperature, control HygieneFresh+™, and diagnose your refrigerator with simple touch on your smart phone.
CAPACITY

506L

DIMENSIONS (W×H×D, cm)

79 × 180 × 73

KEY FEATURE #1

Hygiene fresh+ filter

KEY FEATURE #2

Door Cooling+ ( Fast & Even Cooling )
SPECIFICATIONS
ISO Gross – Total

547

ISO Gross – Freezer

155

ISO Gross – Refrigerator

392

ISO Storage (Net Liter) – Total

506

ISO Storage (Net Liter) – Freezer

130

ISO Storage (Net Liter) – Refrigerator

376

Total Capacity (Cubic Feet)

18
Width (Net)

79

Width × Height × Depth – Product

79 × 180 × 73

Width × Height × Depth – Packing

83.5 × 186.5 × 76.7
Display – Exterial LED

Yes (LED Touch button)

Temp. control – Digital Sensors (RT Sensor)

Yes

Temp. control – Express Freezing

Yes

Temp. control – Child Lock

Yes

Temp. control – Door alarm

Yes

Temp. function – Green Ion Door Cooling

Yes

Temp. function – Door Cooling

Yes (Door Cooling+)

Cooling System

No Frost

Energy Class

A

Finish (Door) – STS/ Brushed Steel/ Shine Steel New Platinum Silver/ Super White Black & etc. (Option)

Plantinum Silver

Handle – Type

H-Solid Noble Silver

Smart Diagnosis

Yes

Bio Shield (gasket)

Yes

Color

Silver

Hygiene fresh

Yes

Smart Inverter

Yes

Linear Cooling™

Yes

Door Cooling⁺™

Yes

ThinQ (Wi-Fi)

Yes
Lamp

Yes

Multi-Air Flow

Yes

Hygiene Fresh

Yes

Shelf – Tempered glass

2

Door basket – Transparent

Yes

Door basket – 2ℓ Bottle Storage

Yes

Fresh 0 Zone

Yes

Veg Box Cover T/V – Tempered Glass

Yes

Vegetable Box – Humidity Controller

Yes

Deodorizer

Yes

Egg tray

Yes (10×1 Eggs)
Lamp

Yes

Multi-Air Flow

Yes

Multi-Air Flow – 1 Touch Twist

Yes (Moving tray)

Door Basket – Transparent

Yes

Shelf – Tempered Glass

Yes