Excellent Freshness – Food Waste Reduction
Effective RPM adjustment improves humidity preservation and prolongs quality and freshness of food. It reduces a large amount of food wastage.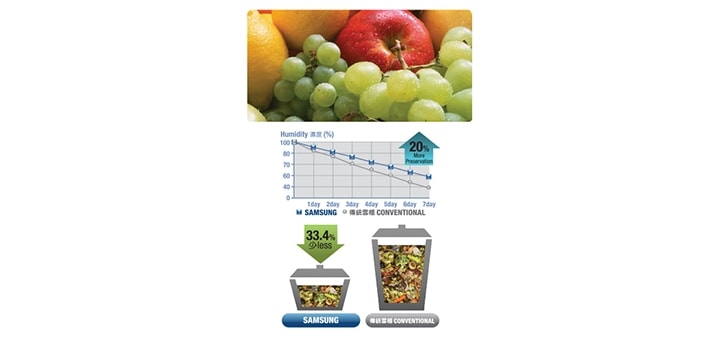 Energy Efficiency
The RT20HAR3D boasts incomparable energy efficiency at annual power consumption rates as low as 235kWh, 45.7% lower than the minimum standard of Energy Efficiency Label Grades.
MoistFresh Zone™
Samsung's MoistFresh Zone with its perfect-fit design eliminates the gaps existing in conventional crispers. The tight-sealed drawer maintains optimal humidity with conduction cooling technology.
90° door opening
MoistFresh Zone can fully extend out when the door is open only at 90°. This convenient feature allows the refrigerator to be placed in a small space or in a tight corner where the door can only be opened 90 °.
Multi Flow
Cooling air flows out through multiple outlets at every shelf level to maintain optimal temperatures to keep food fresh longer.
Tempered Glass Shelves
These shelves not only provide strong support, but offer a clear view of the items stored.
No Frost
Samsung's no frost models will not build up any frost, so users never have to worry about defrosting their refrigerator again.
Twist Icemaker
A simple twist, that is all you need to pop out the ice cubes.
Recess Handler
A modern style Recess Handle features an advanced door opening feature for enabling an easy and effortless opening.
Silver Plus Deodorizer
The Deodorizing Filter has a natural fiber filter and deodorizing filter to eliminate food smell and bacteria that changes the original smell of groceries.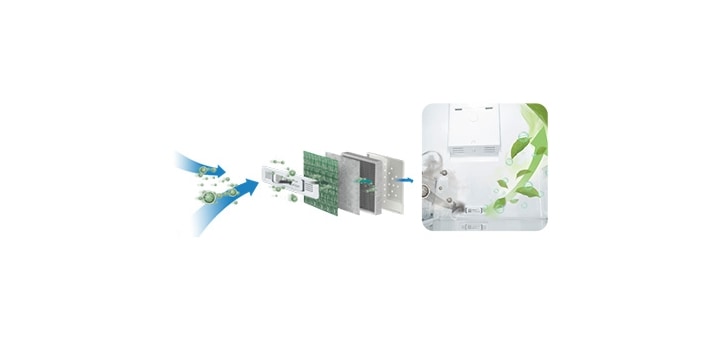 Big Guard
A wider and deeper Big Guard can store big and tall bottles easily, enabling you to enjoy a big bottle of beverage for a long period of time or to store more and various beverages.
Eco LED Lighting
The bright LED lighting enables you to locate the items easily. It emits less heat than conventional bulb lighting so your food stays fresh for a long time. The semi-permanent LED lighting is more efficient and saves you money on energy costs.
203L

Net Total

All Around Cooling

Cooling System

1

EEL Level

4.13

Freezing Capacity (Kg/24 hour)
SPECIFICATIONS
Capacity

Net Capacity

Total:

203L

Freezer:

53L

Refrigerator:

150L

Gross

Total:

216L

Freezer:

60L

Refrigerator:

156L

Energy

Energy Consumption: 220 kWh/yr
Energy Efficiency Rating: 4 Star

Design

Dimensions

Net Width (W × H × D): 555 × 1,465 × 637 mm
Net Case Height with Hinge:

1,465 mm

Net Depth with Door Handle:

637 mm

Net Depth without Door Handle:

637 mm

Net Depth without Door:

545 mm

Weight

Net Capacity:

47.5 kg

Gross:

54.0 kg

Cooling Feature

No Frost:

Yes

Multi flow System:

Yes

Exterior Features

Handle:

Recessed

Colour:

SA (Metal Graphite)

Refrigerator Feature

Shelves

Number of Shelf:

3

Materials of Shelves:

Glass

Number of Vegetable&Fruit Drawer:

1

Door Pocket

Number of Door Pocket:

3

Type of Door Pocket:

Transparency

Egg Container:

Yes

Interior Light:

LED Lighting

Coolever Zone:

MoistFresh Zone

Freezer Feature

Ice maker:

Twist Ice Maker

Shelves
Door Pocket

Number of Door Pocket:

2

Type of Door Pocket:

Transparent

Others

Refrigerant:

R-600a

Cyclopentane Insulation:

Yes