Large capacity (70 Litres)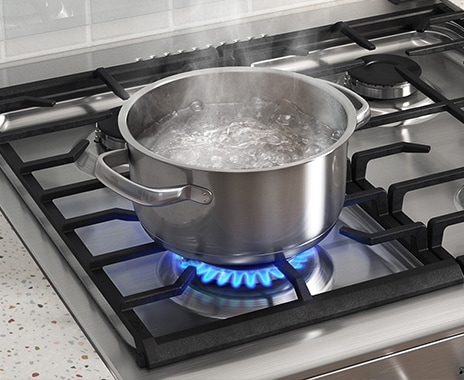 fast burner
Cook quickly and efficiently with a rapid burner, which allows for faster cooking and easily adjustable temperature control.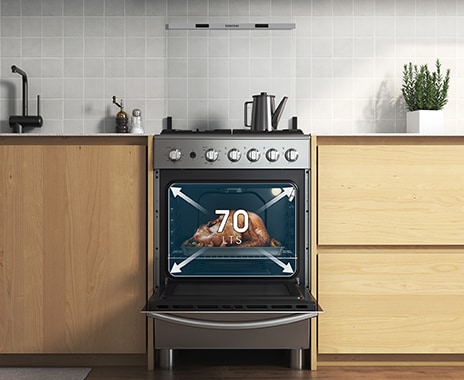 Great capacity
Create many more or much larger dishes with a huge 70 liter capacity oven. **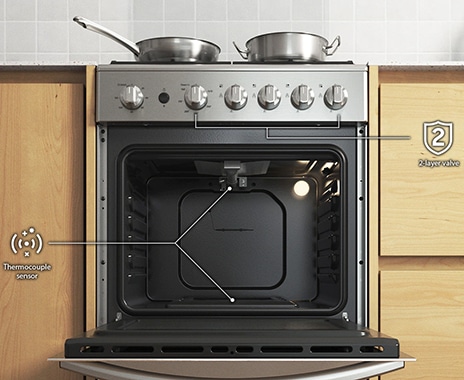 double security lock
Located on the knobs and inside the kitchen oven. This double safety system prevents the gas from leaking accidentally.
Faster and more energy efficient cooking
fast burner
Cook quickly and efficiently with a rapid burner, which allows for faster cooking and easily adjustable temperature control. With a simple turn of the knobs, you can quickly go from high heat to a gentle simmer. Or crank it up to the max to boil water and cook food with amazing speed and energy efficiency.
Cook more conveniently and safely
Large cooking area
Enjoy the flexibility of cooking different dishes of different sizes at the same time. Thanks to the design of its wide grids* in the cooking zone, you can use much larger dishes and a greater variety of kitchen utensils. Its heavy cast-iron grates also provide added stability, so there's less risk of pots and pans tipping over.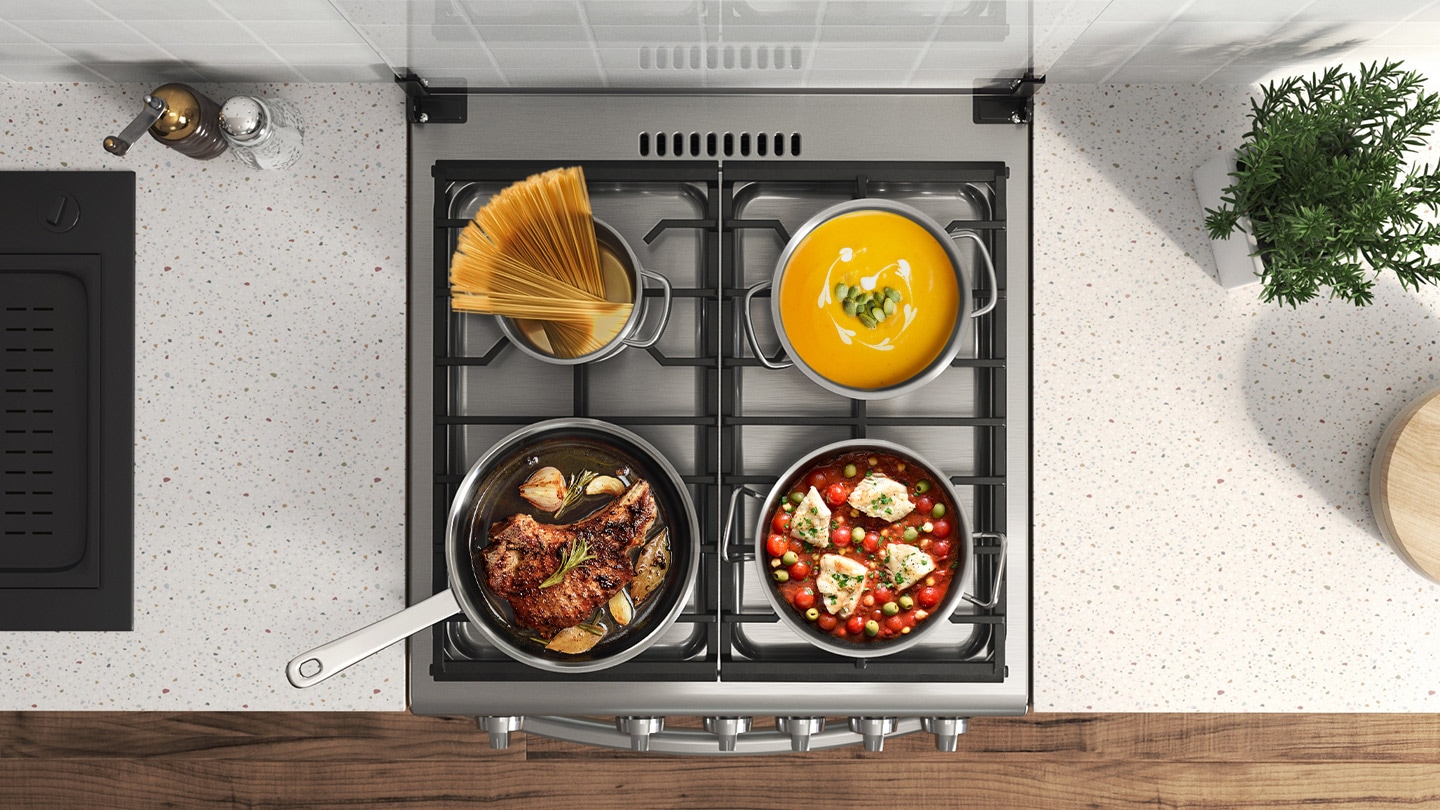 * Based on internal testing at Samsung Kitchen Lab. Test conditions: 1 quart of 80°F water brought to a boil at 190°F. Test Results for Boil Time/Cumulative Power Consumption: Induction Cooktop (3.8 kW) = 1′ 30″"/93.3 Wh, Radiant Cooktop (3.6 kW) = 2′ 57″"/167.13 Wh, gas cooktop (22 kBTU/6.45 kW) = 3'0″/322Wh.
Cook much more in a larger oven
Large capacity of 70 liters
Enjoy more space for baking thanks to its huge 70-litre capacity. You can prepare multiple dishes at different levels, such as vegetables, cakes or casseroles. You can also prepare large dishes, such as a large turkey for any occasion.
Quick detection of gas leaks and protection
double security lock
Cook without worrying about the risk of gas leaks. A double safety system has a 2-layer valve that prevents gas from accidentally leaking through the burners. In addition, a thermocouple sensor quickly detects if the oven flame is out and closes the gas supply valve.
* Only available on the NX52T7320NS/AX model.
Additional protection for the kitchen and wall
Tempered glass cover
Keep the oven and kitchen clean with less effort. When closed, the tempered glass cover prevents the kitchen from getting dirty. Or just flip it up when cooking to prevent oil and food from splashing on the back wall. And you can clean it easily.
Modern and resistant appearance
Modern and robust design
Give your home a flawless and long-lasting style with a modern design that fits harmoniously into your kitchen. Cast iron grates have an attractive hexagonal shape. The mirror-like finish of the door and flat handle create a sophisticated, minimalist look.
Durable, easy-to-clean enamel interior
Easy to clean
Clean up after cooking much easier. The smooth surface of the oven cavity's enamel coating is easy to keep clean, as any dirt can be quickly wiped off without scrubbing. It is also very resistant to marks and rust; so it won't discolor over time.
Specifications
Specification Detail
Installation type

Independent

Cavity type

Thermal
Oven capacity

2.5 cu.ft (70 L)
Control Type (Burners and Oven)

mechanical knob

Control Type (Cooktop)

Knob

Door type

Black (tempered glass)
Interior light (position)

25W×1

Light On/Off (Lamp)

Yeah
Guy

GAS – LP (G30) / NG (G20)

Installation type

STSS

Number of burners

4 AE

Total power (burners)

LP 7.3 / NG 9.5 (kw)

Burner 1

Right / Front (auxiliary – LP 1.0/NG 1.0) kw

2 Burner

Left / Front (fast – LP 2.8 / NG 2.8) kw

3 Burner

Right / rear (slight rapid – LP 1.75 / NG 1.75) kw

4 Burner

Left / rear (slight rapid – LP 1.75 / NG 1.75) kw

Burner cap

4 AE

Center oval

No

Sealed burner

Yeah

Rack

Cast iron, 2 pieces
Product (Width × Height × Depth) 595 × 900 × 646mm
Gross (Width × Height × Depth) 660 × 950 × 705mm
Net weight:

43.8kg

Gross weight:

52.2kg