Runs longer and uses less energy
Digital Inverter Technology
Reduce noise by using your energy more efficiently and enjoying long-lasting performance. To increase its capacity while reducing noise pollution, Digital Inverter Technology* uses very powerful magnets and consumes less energy than a universal motor. It offers exceptional durability, as it contains no brushes that wear out.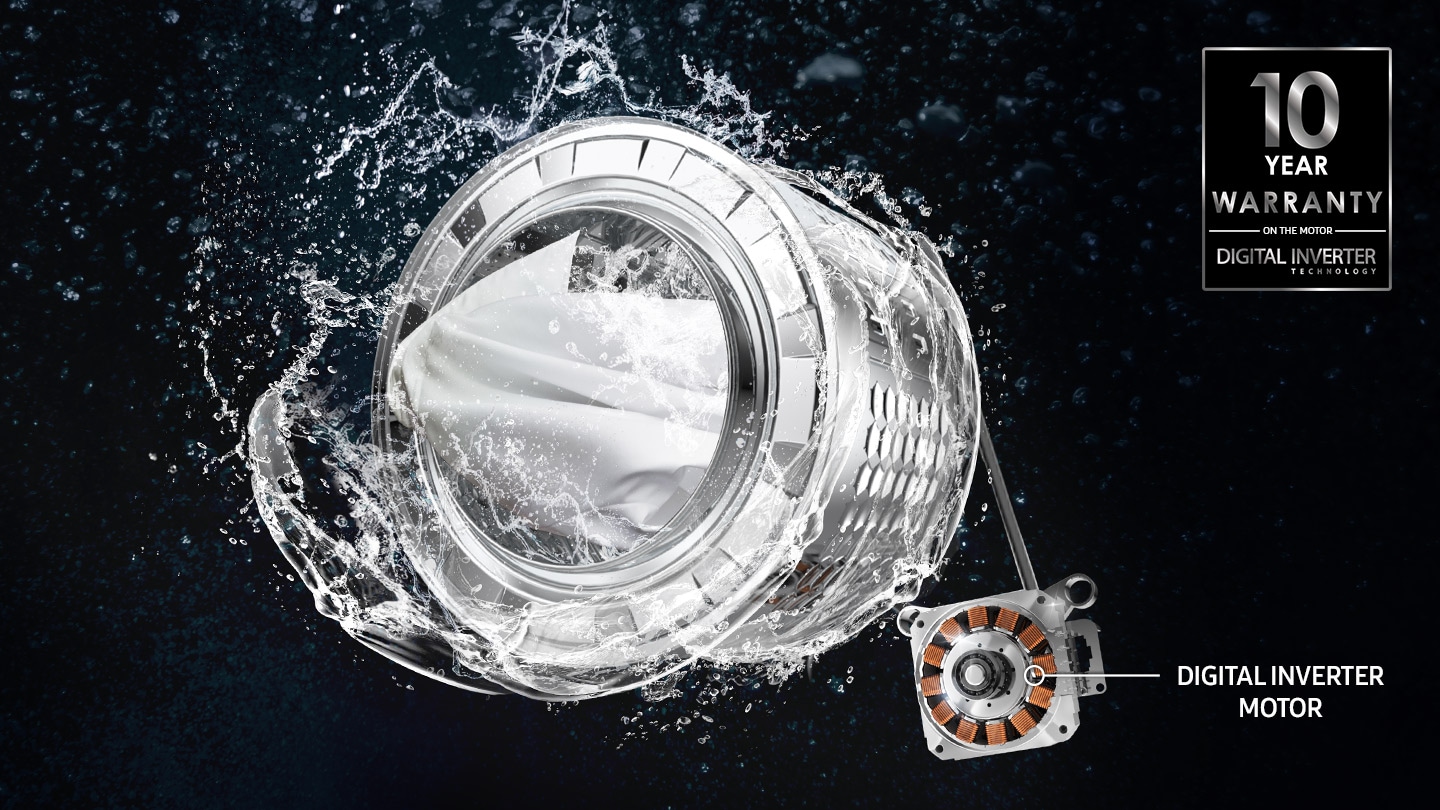 Quick wash
Quickly and effectively clean lightly soiled clothes. The Quick Wash program gets light loads done in just 18 minutes**. If you're in a hurry, want to keep your favorite clothes clean or avoid piling up dirty laundry, you can get great results*** and save time.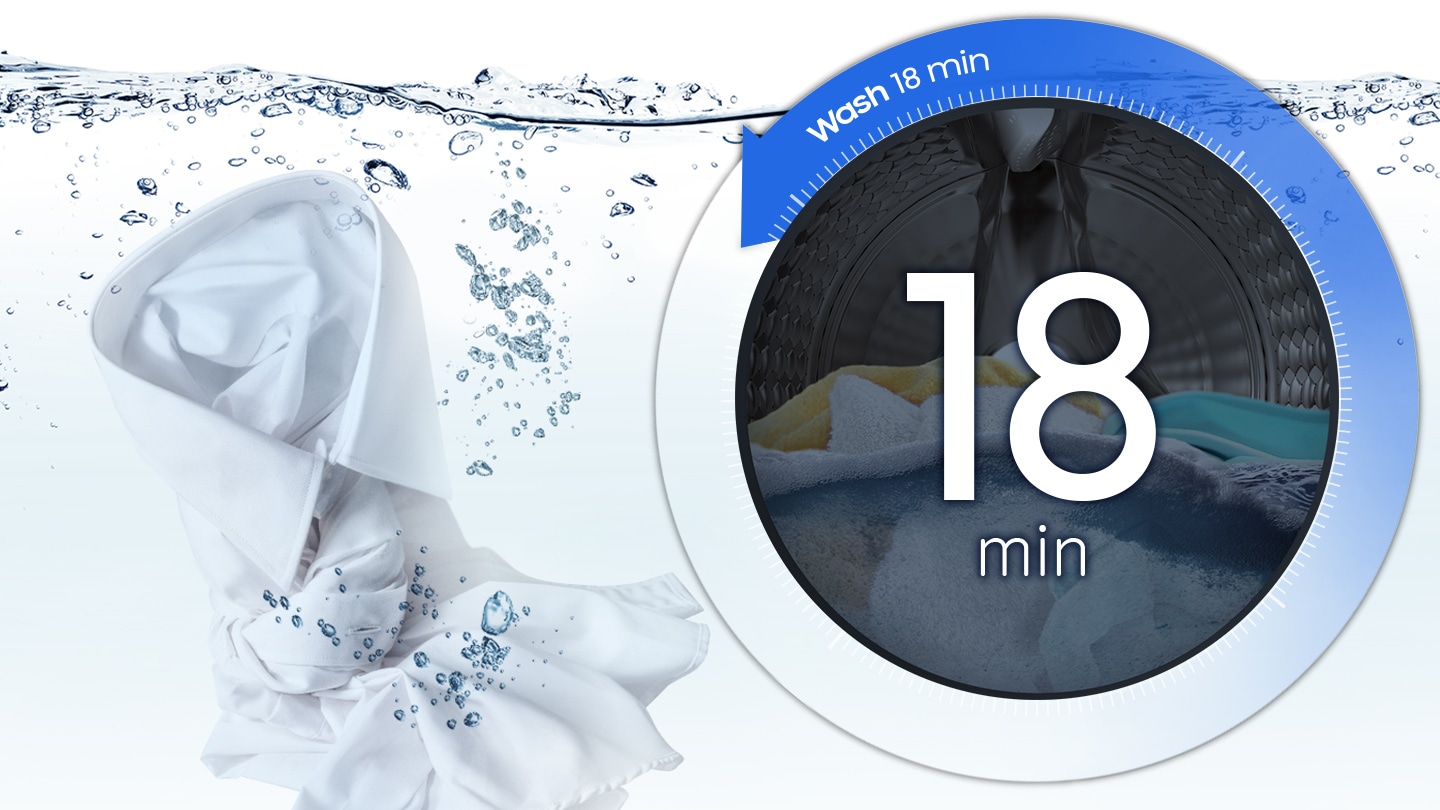 * Loads weighing less than 2 kg.
** Digital Inverter Motor Model = 18 mins, Universal Motor Model = 20 mins.
***Additional washing may sometimes be necessary.
Sterilizing cleaning
Drum Clean
Keep your washing machine healthy while saving the environment and saving money. The Drum Clean program removes detergent residue and dirt from inside the drum. This cycle uses soaking, vibration and high-speed spinning without harsh or expensive detergents.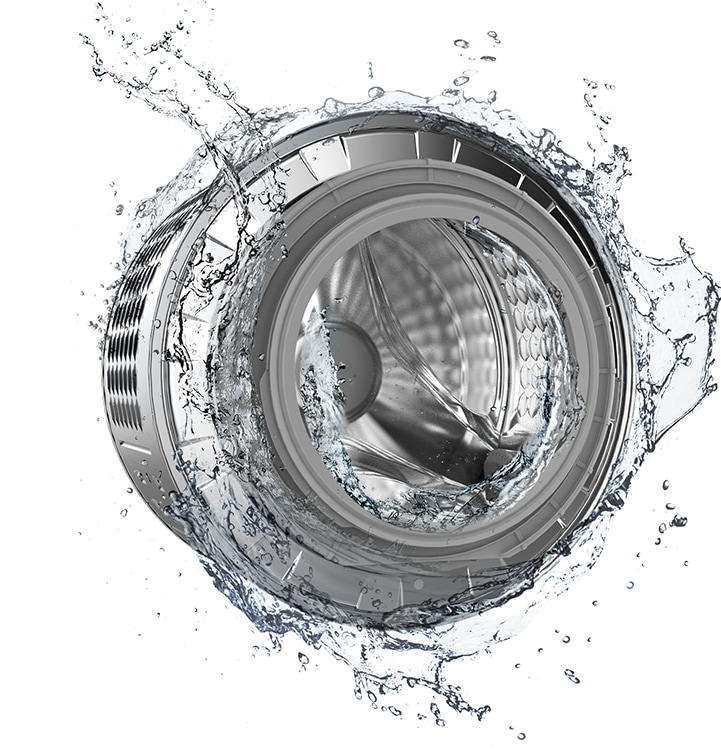 Keep your clothes fresh
Delayed stop
Avoid leaving damp clothes too long in the washing machine so that they don't give off a musty smell. The Delayed End feature allows you to preset a wash cycle up to 24 hours later. You can start washing in the evening and set it to finish when you get home from work, so your laundry stays fresh.
More choice and control
Convenient use
Enjoy a much more convenient way to wash your clothes. The large LED display is extremely clear and easy to read. You can quickly check the washing status, program settings, remaining time and cycle progress. And with 14 programs to choose from, you can optimize washing performance and fabric care.
Features
Net dimensions (W × H × D, mm):

595x850x440 
Specification Detail
Main colour:

Money

Door:

Black

Billboard:

LEDs
Child safety:

Yes

Delayed stop:

Yes

Fault Check Indicator:

Yes

Hot/cold water inlet:

Cold

Engine: 

SAID

Rotation speed (r/min):

1400
+Pre Wash:

Yes

Baby clothes:

Yes

Cotton:

Yes

Colours:

Yes

Daily wash:

Yes

Delicate laundry:

Yes

Drain/Spin:

Yes

Drum Clean:

Yes

E-Cotton:

Yes

intensive:

Yes

Quick wash:

Yes

Rinse + Spin:

Yes

Synthetic:

Yes

Wool:

Yes
Net dimensions (W × H × D, mm): 595×850×440
Net weight (kg):

58