Intelligent Care with 18% More Fabric Protection
Based on big data of accumulated washing experience, AI DD™ offers the most Optimized washing motion in order to care your laundry.
The AI DD™ detects not only the weight, but also senses softness of fabric, and it chooses the optimal motions for the fabric by itself.
LG Steam™ technology eliminates 99.9% of allergens, such as dust mites that can cause allergy or respiratory issues.
*Allergy Care cycle certified by BAF (British Allergy Foundation) reduces 99.9% house dust mite allergen.
Allergens reduced up to 99.9% by Steam.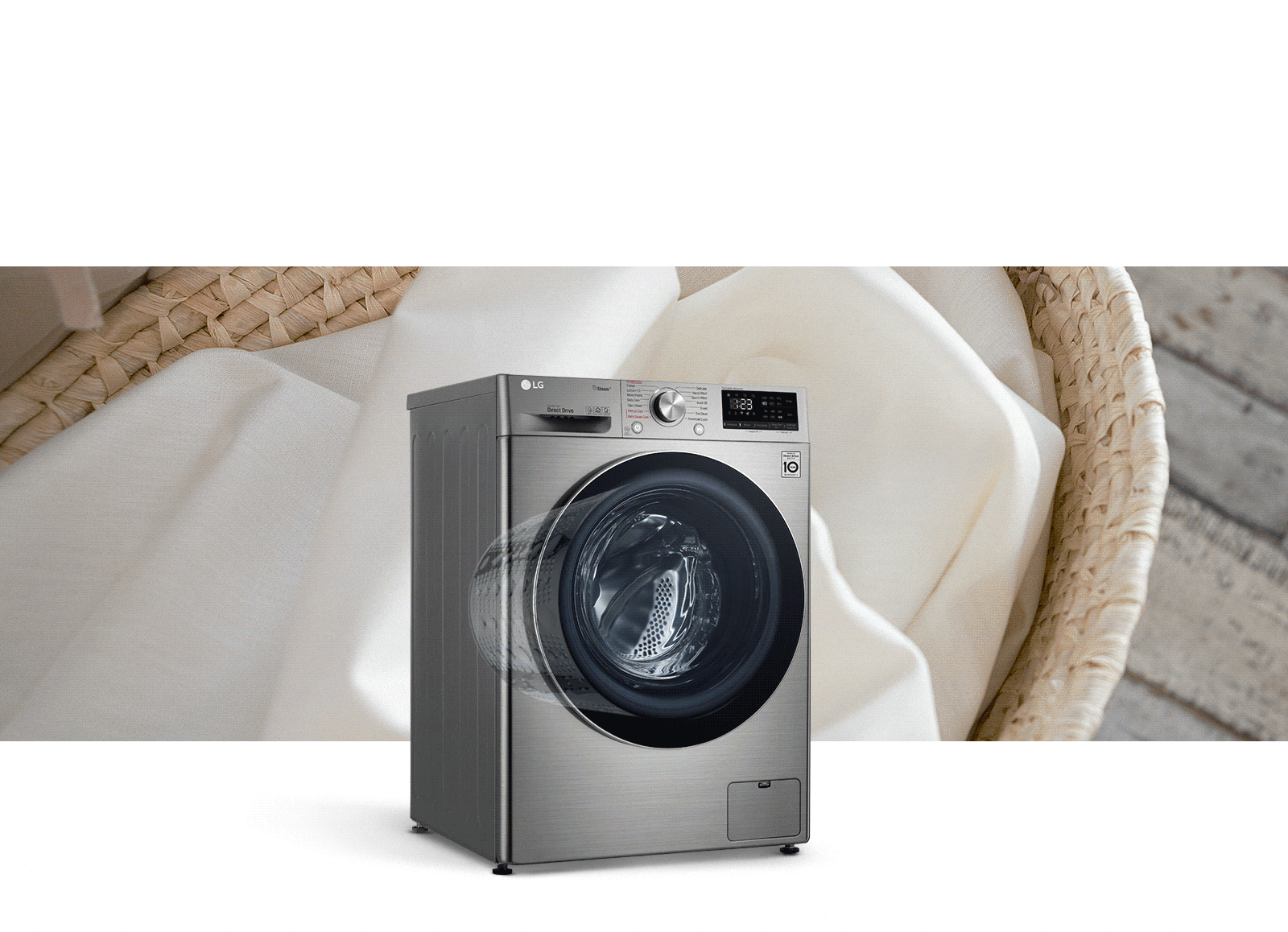 Bigger Capacity in the Same Space
Get bigger drum capacity in same size!
More Durable and Hygienic
Boosted external durable and elegant tempered glass door and developed hygienic and durable stainless lifter.
*Tested by Intertek on July 2013. Bactericidal effect for P.aeruginosa of stainless steel against initial amount in 12 days.
Made a more visible display and increased the knob size with a metallic finish.
Available with TWINWash™ Mini
Plus a TWINWash™ Mini according to your preferences to suit your lifestyle and interior design needs. Save you time and money in your busy life.
With ThinQ™ technology, your washer just got smarter from operating your laundry remotely to downloading additional cycle. Easily interact with it and access the latest innovations with Wi-Fi Connectivity.
Product description
Capacity: 10.5 kg

RPM: 1400

Dimensions (W × D × H): 600 × 560 × 850 mm

6 Motion

Steam

Full STS Drum

SmartThinQ (Wi-Fi)

Smart Diagnosis

Glass Round Door

Depth: 550 mm

Width: 600 mm

Height: 840 mm

Internal Heater: Yes

Pump: Yes

Steam: Yes

Digital Screen: Yes

Loading Type: Front Load

Stainless Steel Tub: Yes
CAPACITY

10.5kg

DIMENSIONS (W × D× H, mm)

600× 850× 560

MAIN TECHNOLOGY:

Front Load Washing Machine

ADDITIONAL BENEFIT:

Var
SPECIFICATIONS
Intello DD

Yes

Inverter Direct Drive™

Yes (Post DD)

Steam™ (True/Spa/-)

Steam

6 Motion

Yes

Energy Efficiency Class

A+++ -40%

Add Item

Yes

Smart function – Smart Diagnosis

Version 3.0

Smart function – NFC (Download cycle, NFC)

Yes

Wifi (Wifi Control)

Yes
Finish – Body Color

VCM

Finish – Door

Chrome rim + Glass Door

Finish – Display Background color

Black + Dark Grey

Finish – Dial Knop

Silver+Silver

Basic – Max Wash Capacity(kg)

10.5

Basic – Spin speed

1400/1200/1000/800/400/No spin

Basic – Variable Temperature(℃)

Cold/20/40/60/95℃

Basic – Water feed (Hot / Cold)

Cold Only

Basic – Auto Restart

Yes

Basic – Standby Power zero

Yes

Basic – Door Switch type

Auto Door

Basic – Door Openning Angle (º)

150

Basic – Drum Volume (liters)

68

Basic – Drum Hole Size (mm)

300 (R)

Basic – Inner Drum

Embossing

Basic – Drum Lifter

STS Slim Lifter

Contol – Program selector

Dial + Touch

Contol – Diaplay Type

White LED

Contol – Figure indicator (Remain time, temp, RPM)

18:88

Contol – Delay timer

3-19 hrs

Contol – Start/Pause Indication

Yes (Start buttion Blink)

Contol – Door Lock Indication

Yes

Contol – Error Message Indication

Yes

Contol – Error Message Alarm

Yes
Cycle No.

14

General – Cotton

Yes

General – Cotton +(Eco 40-60)

Yes

General – Mix (Mixed Fabric)

Yes

General – Easy Care

Yes

General – Duvet

Yes

General – Tub Clean

Yes

Caring – Allergy Care (TrueSteam or SpaSteam)

Yes

Caring – Baby Steam Care (SpaSteam only)

Yes

Special – Sports Wear

Yes

Special – Silent Wash

Yes

Special – Speed14

No

Special – Download Cycle (Default Rinse+Spin)

Yes

Special – Delicate

Yes

Special – Wool (Hand / Wool)

Yes
Prewash

Yes

Time Delay(Delay End)

Yes

Child-Lock

Yes

Spin Only

Yes

Beeper On/Off

Yes

Wash Option – Intensive

Yes

Rinse Option – Rinse+

Yes
Baby Care

Yes

Kids Wear

Yes

Swimming Wear

Yes

Rainy Season

Yes

Gym Clothes

Yes

Jeans

Yes

Blanket

Yes

Sweat Stain

Yes

Single Garments

Yes

Color Care

Yes

Quiet Wash

Yes

Rinse+Spin

Yes
Dimension (WxHxD, mm)

600 x 850 x 560

Box Dimension (W*D*H mm)

660 x 660 x 890

Weight(kg)

70

Weight include packing(kg)

74
Brand

LG

Model

F4V5RYP2T.ASSQESA

Wash Capacity (KG)

10.5

Energy Efficiency Class

A+++

Energy Consumption per Year (kWh)

143

60 °C cotton (Full Load)

0.67

60 °C cotton (Half Load)

0.63

40 °C cotton (Half Load)

0.56

Power Consumption(W) – Off-Mode

0.50

Power Consumption(W) – On-Mode

0.5

Water Consumption per Year (ℓ)

9,900

Spin Performance – Efficiency Class

A

Max spin speed (RPM)

1360

Spin Performance – Moisture Content (%)

44%

Time (Min) – 60 °C cotton (Full Load)

292

Time (Min) – 60 °C cotton (Half Load)

258

Time (Min) – 40 °C cotton (Half Load)

248

Duration of the left-on mode (Min)

10

Noise Level (Wash)

53

Noise Level (Spin)

71

Standard Washing Program

Cotton + 60℃/40℃
Wash Capacity (KG)

10.5

Energy Efficiency Class

C

Energy Consumption per 100 cycle (kWh)

69

Eco 40-60 (Full Load)

1.063

Eco 40-60 (Half Load)

0.995

Eco 40-60 (Quarter Load)

0.317

Water Consumption per a cycle (ℓ)

53

Spin Performance – Efficiency Class

A

Max spin speed (RPM)

1360

Spin Performance – Moisture Content (%)

44

Time (Min) – (Full Load)

239

Time (Min) – (Half Load)

179

Time (Min) – (Quarter Load)

159

Noise Level (Spin) – Standard Washing Program

Eco 40-60 40℃