Digital Inverter Technology
More space inside
SpaceMax™
Wash larger loads with a huge 9kg capacity interior in a standard 600mm depth cabinet, so it aligns seamlessly with your work surfaces. SpaceMax™ technology creates more space inside to incorporate a larger drum without increasing the external dimensions, so you can wash more clothes at once.
Long-lasting and efficient motor
Digital Inverter Technology
Enjoy efficiency and long-lasting performance. Digital Inverter Technology utilizes strong magnets for a quiet and powerful performance with energy efficiency. It also offers the industry's longest* warranty of 20 years on the motor.
* As at Dec. 2022. The 20 year parts warranty is only applicable to the inverter motor.
Hygienically clean
Drum Clean
Keep the inside of your washer hygienically clean. Drum Clean removes 99.9% of odor-causing bacteria* from the drum. You don't need harsh or costly detergent, as it uses a combination of soaking, pulsating and high speed spinning. And it automatically notifies you when it needs cleaning**.
* Eliminates 99.9% of bacteria from the inside of the washer. Based on testing by Intertek of the Drum Clean cycle.** Provides a notification after every 40 cycles.
Cleans away residue
StayClean Drawer
Stop wasting detergent and avoid the tedious task of cleaning the detergent drawer. The StayClean Drawer ensures that more of the detergent is washed away with a specially designed water flushing system. So, there's less unsightly soap residue and the tray stays cleaner and more hygienic.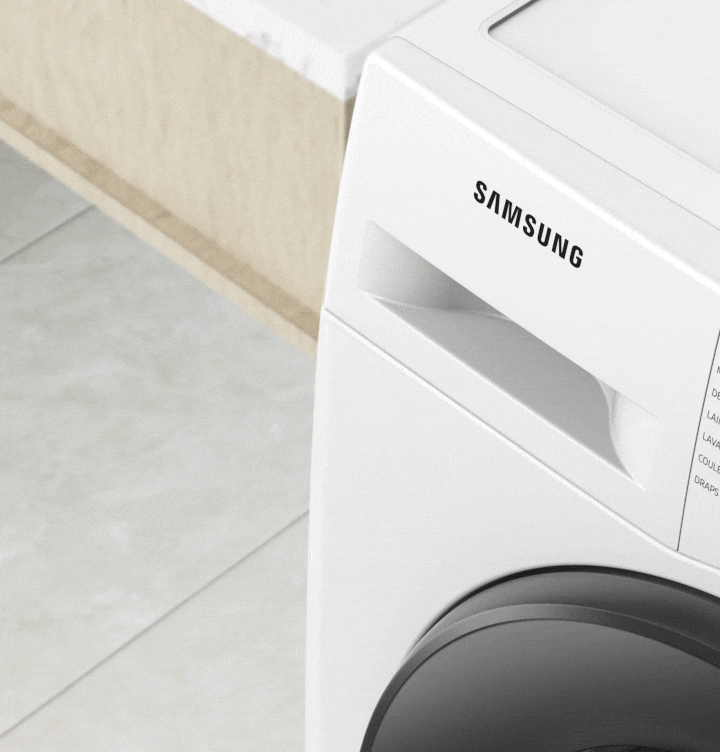 Intensive cleaning
Bubble Soak
Get clothes spotlessly clean, even if they're really dirty. The Bubble Soak function helps remove a wide variety of stubborn stains, like blood, tea, wine, make-up and grass. Clothes are thoroughly soaked in active bubbles, so dirt and stains are loosened and can be removed more effectively*.
* Tested in accordance with IEC 60456 5th edition / 8kg Wash Load / Bubble Soak Wash vs. Cotton 40/60°C, Synthetic 60°C, and Denim 40°C without Bubble Soak.
Specifications
Washing Capacity (kg):

9.0 kg

Bubble technology:

Bubble technology

Net Dimension (W×H×D): 600 × 850 × 550 mm
Specifications Detail
Washing Capacity (kg):

9.0 kg
Body colour:

Inox

Door:

Carved Door (Black)

Panel Display:

LED
Bubble Soak:

Yes

Bubble technology:

Yes

Child Lock:

Yes

Delay End:

Yes

Drum Clean:

Yes

Drum type:

2nd Diamond

Easy Iron:

Yes

Intensive:

Yes

Motor:

DIT

Pre Wash:

Yes

Smart Check:

Yes

Spin Speed:

1400 rpm

StayClean Drawer:

Yes

Steam:

Yes
15′ Quick Wash:

Yes

Bedding:

Yes

Cotton:

Yes

Colors:

Yes

Daily Wash:

Yes

Delicates:

Yes

Drain/Spin:

Yes

Drum Clean:

Yes

E Cotton:

Yes

Hygiene Steam:

Yes

Intense Cold:

Yes

Rinse + Spin:

Yes

Synthetics:

Yes

Wool:

Yes
Net Dimensions (W×H×D): 600 × 850 × 550 mm
Net Weight:

65 kg